Fleet Feet Tucson is excited to bring Generation UCAN to our nutrition line-up. A unique formula, Generation UCAN is powered by SuperStarch, a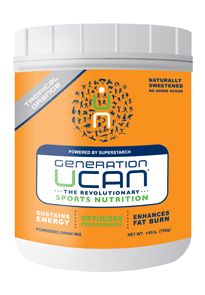 healthy, natural, gluten-free innovation in carbohydrate nutrition. SuperStarch is a complex carbohydrate (derived from non-GMO corn) that uniquely stabilizes blood sugar and causes virtually no reaction from the fat-storage hormone insulin. When used correctly, Generation UCAN replaces the need for other nutrition products like gels and chews, delivering a cleaner, lower-sugar energy source. Originally discovered for children with life-threatening energy imbalances, SuperStarch is now embraced by athletes of all levels. Here's what Generation UCAN has to offer:
Optimized performance with steady energy when you need it, without the spike and crash of sugar and maltodextrin based products.
Sustained energy with time-released delivery of glucose, keeping you above baseline longer.
Enhanced fat burn allowing you to improve body composition as you burn fat for fuel during your workout and keep burning fat while you recover due to suppressed insulin response.
Speedier recovery as your body is able to use protein to repair and restore your muscles rather than for energy, since blood sugar is stable.
No gastric distress, because SuperStarch is a large molecule that passes through the stomach quickly and is digested slowly in the intestine
Curious? Several of our staff members use Generation UCAN and we are happy to tell you more about it. Come see us this week!