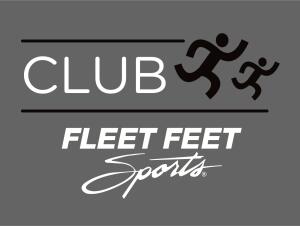 Wouldn't you like to be part of the Fleet Feet Club? Our Club is a series of free community events for people who love to run or walk, are inspired to be fit, healthy and enjoy the camaraderie and empowerment that exists amongst each other. Become a club member by joining us every month for a 3-4 mile run/walk and then hang out for some yummy food and/or tasty beverages at our local gathering spot. The club events will be held once a month alternating between Thursday evenings at 6pm and Sunday mornings at 9am. Partnering restaurants, coffee shops and Fleet Feet vendors will provide discounts and/or special offers only to those who attend the events. To add to the fun, we plan to have club members test new and current products such as shoes, apparel, accessories, and more! Better yet, we'll have fun and creative themed run/walks, including our kickoff Halloween event and other upcoming holiday events. Based on the theme, there will be some exciting prizes and giveaways that you won't want to miss!
Become a Fleet Feet Club Member
To become a Club Member you just need to complete our waiver/registration form at a monthly run/walk event. After that, club members simply check-in at each event attended. What's great about the Fleet Feet Club is you will have the opportunity to earn points and receive awesome benefits. Once you've earned 10 points, you'll receive your Fleet Feet Club shirt! Additional point incentives will be free product and/or discounts at Fleet Feet.
How to Earn Points
2 points - per club run/walk attended.
1 point - Fleet Feet is supporting Youth On Their Own, a non-profit drop out prevention program that supports the high school graduation of homeless unaccompanied youth in the Greater Tucson region. Visit the website to view types of in-kind donations you can bring to a club event.
1 point  - Become a Fleet Feet Club Volunteer - help us at a Club Event during registration and check-in!
Fleet Feet Club Calendar
Thursday, November 10 at 6:15pm at Fleet Feet Tanque Verde
Fleet Feet Club Veterans Day Fun Run
Military Discounts – Absolutely!
New Balance Demo Shoes – Check!
Support a Great Cause – Fisher House!
Please join Fleet Feet Tucson to honor and celebrate the veterans who have kept and continue to keep our great country safe! 
Demo some updated New Balance shoes as you run Udall Park. Afterwards, join us at the store for DISCOUNTS, snacks, craft brew and a chance to win a free pair of New Balance shoes! Snacks will be available and we will be collecting some much-needed items for Tucson's Fisher House.

Have a question? Email amanda@fleetfeettucson.com