Where do my shoes come from?
by Anne Stancil
I was taking a customer through our fit service the other day, and after selecting a style she liked asked, "so where do these shoes come from?" A cautious consumer, she was concerned about the location in and materials/methods by which her shoes were made. I too try to be informed about the products I buy, so I wanted to take the opportunity to share a bit about the evolution of running shoe design and manufacturing and how the companies we carry at Fleet Feet are making a positive impact.  With so many choices out there, it's important to me—and hopefully you too—as a consumer and a sales associate to support the brands doing it right.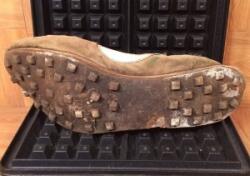 Shoe design has come a long way since Bill Bowerman's waffle iron in 1971. In years past the running shoe industry has received a bad reputation for waste and pollution, not to mention labor and human rights issues. Traditionally, running shoe midsoles (the part that provides the cushioning) were punched out of long rolls of  polyeurthane (petroleum-based foam) or more recently, EVA (another chemically-based foam), which created a good deal of waste.  Today, companies are using new methods where they inject the cushioning material into molds, dramatically reducing waste. In addition, materials are improving. Brooks introduced BioMoGo in 2006, the first-ever biodegradable midsole. Other companies followed suit, like Mizuno in 2009 when they began using Pebax Rnew in their wave technology, which uses castor oil instead of petroleum. We've seen a good deal of waste reduction in packaging materials as well. Brooks lowered the weight of their footwear packaging by 82 grams from 2009 to 2012.
This might not seem like much, but as runners and walkers, most of us are environmentally-minded folks. We appreciate beautiful landscapes and scenery and work to preserve our favorite places to run and hike. We want to leave our footprints in the dirt, not increase our carbon footprint. In addition, I like to think the running community embraces fair labor practices and denounces the  "sweatshop" formula.  There's good news and the future looks bright, especially for companies like Brooks, Hoka, Balega, Superfeet, Newton and others. Corporate Social Responsibility is a priority for these brands, and they work closely with local businesses like ours to make a positive impact for the planet and our communities. Check out Balega's website for information on their Lesedi Project and other outreach efforts. Yes, you are paying a little more for your socks, but look at what you are supporting with your purchase.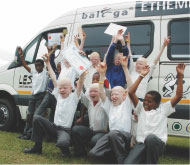 What does this mean for you and me? You can feel good about the purchases you make at Fleet Feet and I can feel good about selling them to you. In addition, when you purchase from Fleet Feet, you support your local community. Through our training programs, outreach efforts, and other events people live healthier lives, students gain access to footwear, and we provide educational opportunities.  As a conscious consumer you can be sure that Fleet Feet Sports FITS into your lifestyle. Thanks for your loyalty!