Happy Trails! 
by Anne Stancil
In celebration of a new year and the upcoming 10th Anniversary of the Arizona Trail Race, I want to take a moment to encourage each of you to get out on the trails in 2016. Although it can be a bit daunting for those of you new to the experience, trail running can be quite fun and rewarding if you have the right tools and frame of mind. Here are 7 tips to have a great time on the trails and take your running to new places this year:
1. Take a hike.
Even the most seasoned ultra distance trail runners will tell you that walking and hiking is a part of any trail running experience. Sometimes the terrain requires a more deliberate pace, you'll want to conserve your energy on the climbs, or you may just want to take in the scenery. Whatever the reason, it's ok to slow down.
2. Wear proper shoes.
Of course I wouldn't be a good sales person if I didn't talk about gear, and when it comes to trails, proper shoes are a must. Here in Southern Arizona our trails are quite rocky, and traditional road running shoes allow you to feel every lump and corner. The improved rock protection, traction, and responsiveness of a trail shoe really does improve your experience.
3. Be Prepared.
There are no water fountains or convenience stores out there, so you need to carry enough water and nutrition with you. Often, we're out longer on trails than the roads, so carry more than you think you'll need. A hydration vest or belt is a great option for all of your gear.
4. Confidence is king.
One of the biggest concerns about trail running is falling, and, yes, most of us are more likely to stumble on a trail than on the road. If you remember to pick up your feet and step with confidence, you'll be less likely to fall. There are several less-technical trail options that offer easier footing. Check out Catalina State Park and Sagauro National Park East.
5. Bring a buddy.
There's safety in numbers on the trails, so invite your friends and family to share in your adventure. Regardless of how many folks come along, be sure to notify others of where you'll be and for how long you expect to be gone. 
6. Keep your eyes (and ears) open.
One of the best things about trail running is getting close to nature. Keep in mind, however, that you will be in other critters' habitat so we need to be mindful and respectful. Snakes, javalina, and even mountain lions live in the desert and mountains through which many trails traverse. For your safety and theirs, stay on the trail, watch your step, and keep your distance. Check out Sabino Canyon's Critter Corner for information on some of the animals you may encounter.
7. Enjoy the view.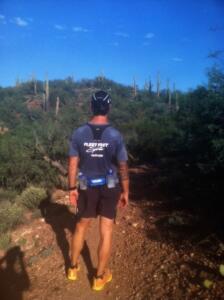 Southern Arizona has some of the most beautiful landscapes you'll ever encounter, and one of the best things about trail running is you get to experience breathtaking views and surroundings that you just can't reach on the roads. It's not about how fast or how far you go. It's about the journey!
So, leave your watch at home, grab your camera and get out there. Happy trails!
Anne
P.S. Be sure to check out The 10th Annual Arizona Trail Race for an amazing trail running experience. Registration is limited to 250 participants and is filling up fast!