Why You Should Buy the Garmin VivoActive
by Anne Stancil
I'm probably the last person you would expect to review a GPS watch. Not because I'm not educated about the different features, how they work, or how beneficial they can be for training, but rather because I've never been a fan of numbers and statistics when it comes to my personal training. Yes, it's helpful to know your pace and how far you've gone, but beyond that I'm not really interested.  It's hard enough some days just to get the workout in, let alone find the time to analyze the data. I'm notorious for forgetting to start my watch at the beginning of a race, and I even accidently left my bike computer in my hotel room when I did Ironman Arizona a few years ago (I didn't really care!).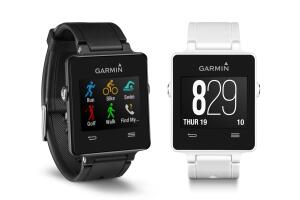 So, the fact that I'm writing a blog post touting the features of the new Garmin VivoActive should tell you something—it's simply awesome and you should get one. Combining the features of a fitness tracker, smart watch, and GPS watch, the VivoActive is really all most of us need. Not to mention the fact that it's thin and lightweight—I've got small hands and wrists and it doesn't looking like I'm wearing a laptop on my arm. So in the name of keeping things simple and non-technical, here's my Top 10 List of Reasons Why You Need the Garmin VivoActive:
10. It looks sleek and is comfortable to wear.
9. You can customize your watch face (I prefer analog over digital).
8. It includes a step tracker and alerts you when you've been sitting too long. 

7. The vibration alerts are nice—you don't have to worry about hearing a beep.
6. It works easily with Garmin Connect, so you can track workouts and stats (for those of you that enjoy that sort of thing).

5. It's Bluetooth compatibility allows you to receive call, text, and calendar alerts on your watch, as well as allow friends and family track your progress during events. (This is optional—I know sometimes the last thing you want is to get texts while working out). 
4. The touch screen is easy to use and navigate.
3. You can download fun features like the Beer Tracker that allows you to track your workouts in terms of beers earned (seriously—I downloaded this and it's awesome).
2. You can track run, swim, bike workouts and customize the specifics for each mode and set alerts. 
1. At $250, it's a bargain—for all the features you get, that's a great price!