New session begins: September 3rd, 2019!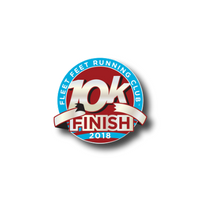 The 10K (6.2 miles) training program is designed to further runners and walkers towards their fitness and running goals beyond the 5K distance. It will include an education on training techniques and tools in order to further enjoy running and improve your performance. Along the way we'll provide you with motivation to keep you moving, guidance and advice, weekly group training runs or walks, and educational clinics on topics such as proper nutrition, choosing the right gear, and avoiding injury. Plus, you'll have the camaraderie of others just like you! We will be training for the Turkey Trot 10K distance. Training will start September 3rd and run until November 26th!
Program Benefits :
Getting you to the starting line of a 10k
Weekly group training runs and walks
Frequent interaction and weekly emails with coaches
Fleet Feet tech tee for race day
Educational technique clinics to help you succeed in your fitness goals
A new group of running buddies to get you moving!
In store discounts!
Quick Overview:
Information Session: August 27th @ 6pm
Starts: September 3rd - November 26th!
Season Logistics: Program meets twice a week Tuesdays @ 6:30pm and Saturdays 7am
Program costs: $105
Ideal for: Runners, run-walkers and all levels, ages, abilities!
Program Start: September 3rd, 2019
Program Schedule: Tuesdays 6:30PM and Saturdays 7AM
Program Fee: $105 excluding race fee