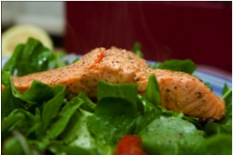 Pan Seared Salmon on Baby Arugula and Simple Roasted Carrots
Salmon:
2 center-cut salmon fillets (6 oz. each)
1 1/2 Tbsp fresh lemon juice
1 1/2 Tbsp olive oil
Salt and freshly ground black pepper, to taste
Salad:
3 cups baby arugula leaves
2/3 cup grape or cherry tomatoes, halved
1/4 cup thinly slivered red onion
Salt and freshly ground black pepper, to taste
1 Tbsp extra-virgin olive oil
1 Tbsp red-wine vinegar
Place the salmon fillets in a shallow bowl. Toss well with lemon juice, olive oil, salt and pepper. Let rest for 15 minutes.
Cook the salmon, skin side down in a nonstick skillet over medium-high heat for 2 to 3 minutes, shaking the pan and carefully lifting the salmon with a spatula to loosen it from the pan.
 Reduce the heat to medium. Cover the pan and cook until the salmon is cooked through, 3 to 4 minutes more. The skin should be crisp and the flesh medium rare.
Combine the arugula, tomatoes and onion in a bowl. Just before serving, season with salt and pepper and drizzle with oil and vinegar. Toss well.
Nutritional analysis per serving: 390 calories, 4g carbs, 40g protein, 23g fat, 105mg cholesterol.

Simple Roasted Carrots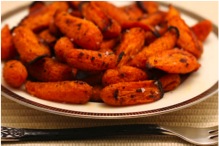 Ingredients
1 lb pre-cut baby carrot
 1 tablespoon olive oil
1/4 teaspoon salt

Directions
Heat oven to 475 degrees.  In shallow baking dish, toss carrots with oil and salt. 3Roast 12 minutes, then shake pan to toss. Roast another 8 minutes, shaking pan once or twice, until brown and tender. 5 Serve hot.
References:
http://www.epicurious.com/articlesguides/healthy/news/diet_antiinflammatory/recipes/food/views/Pan-Seared-Salmon-on-Baby-Arugula-242 445
http://www.food.com/recipe/simple-roasted-carrots-59278