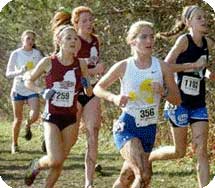 By Betsy Black

My favorite running partner and I don't get to run together very often. She's much slower than me, she can't hold up her end of a conversation, she can never make it through the duration of a run without having to use the bathroom, and sometimes she stops in the middle of a run just because she gets distracted. But despite these drawbacks, I love running with my dog Tenny.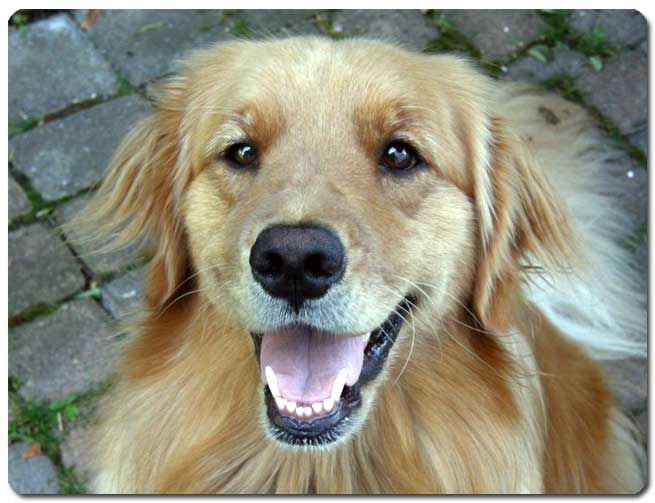 Tenny is my three-year-old golden retriever. She is the biggest running enthusiast I know and is, fittingly, my team's mascot. All I have to do is say the words "go for a run" and Tenny gets ridiculously excited. She knows that those four short words imply going to fun new places with strange new smells and finding whole new worlds of things to eat when I don't pay close enough attention. For Tenny, going on runs means exploring the trails near my house and always, always finding bodies of water, be it small lakes or big dirty puddles that she can lounge about in.
Unfortunately for Tenny, I'm on a team that has organized practices nearly every day and as a result, I don't get to run with her very much. Instead of the consistent daily runs she should have, Tenny gets a run in whenever I find myself with spare time.
I had the opportunity to take Tenny for a run for the first time in weeks last month. My coach had given me the option of a day off or a very easy run, so I decided I would take Tenny out for a jog. The moment Tenny noticed I was simultaneously holding her leash and lacing up my trainers, she was off the walls. As usual, she sprinted for the first 100 meters of the run and then settled in to a light "jiggle jog" pace. I took her for a very easy run that consisted of a mile run down to a nearby park, where she romped in the creek, met some strangers, and quenched her thirst in some particularly stagnant-looking water, and then a slightly shorter, but hillier run back home.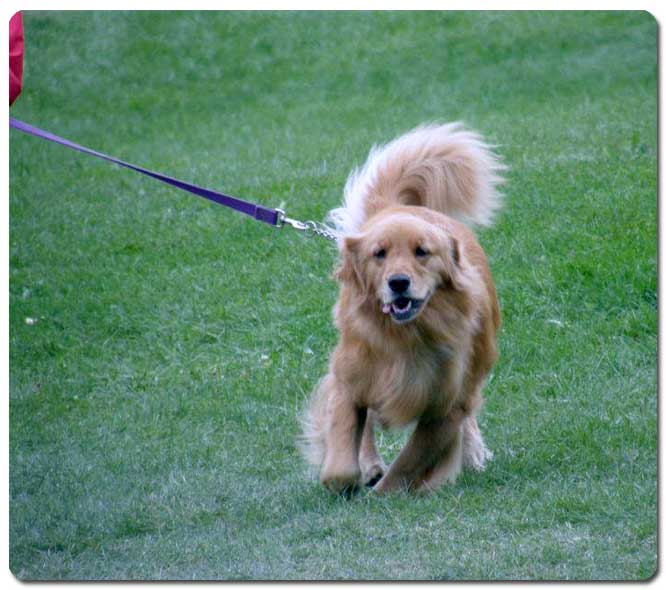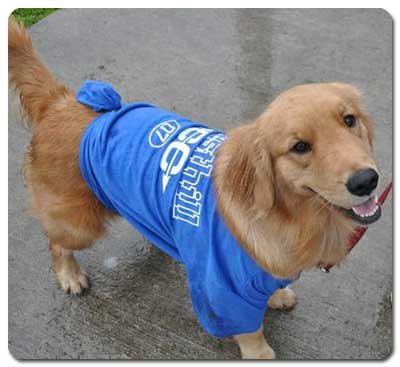 Despite the brevity and lackluster intensity of our run, by the time we got to the last hill, Tenny was pooped. While I attempted to jog up the hill at a steady tempo, she progressively slowed down to a walk and then stopped altogether and lay down in my neighbor's front lawn. At this point, I knew that no amount of pulling on her leash would make her get up so I simply put her leash down on the ground next to her, said "see you later!," and continued running up the hill without a backward glance. I ran alone in silence for about fifteen seconds before I could hear her scrambling to catch up with me. Needless to say, she stuck right to my heels for the remainder of our short run.
Later that evening, Tenny was visibly sore from her workout. When it came time for her to go upstairs to bed, she stood at the bottom of the stairs looking up them for a long time until my dad finally took pity on her and picked her up and carried her to bed.
Since that disastrous run, I've limited Tenny's runs to one to two laps around my 1/3 mile block. Much like people, it's important for dogs to gradually build up a base. I love to run with my dog, but since that experience, I've learned that regardless of how much it may seem like she wants come running with me, she won't be ready to until she has weeks of short jogs logged.
So for all of my fellow dog and running enthusiasts: by all means bring your dogs running with you, but be sure to ease them into running slowly. Dogs are man's best friend after all, so why shouldn't they be man's best running partner as well?