By Fred Joslyn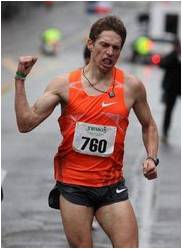 Editors Note: Fred Joslyn is competing at the Men's US Olympic Marathon Trials in Houston this Saturday. You can see delayed coverage of the race starting at 3 PM on NBS Sports.

Now that the Olympic Trials are less than a week away, training is in full taper mode.

Before I left Syracuse my workouts and mileage was challenging but the excitement of racing in the Olympic Trials pulled me through.  I usually ran 12 times per week and with the days being so short I almost always ran at least one run in the dark.

Running in the dark is a different experience, but I've really started to enjoy it.  I love running down the canal path on a clear night under the moonlight.  Running at night sometimes has the effect of losing track of time.  I've been on runs at night and completely forgotten how far I'm going or what time it is.

Recently I've had a few interviews prior to competing in the trials and I've often been asked if I have any pre-race superstitions.  I guess this question likely stems from baseball players who don't shave after they've won a playoff game or athletes that must have the same exact routine prior to competition.

Well my answer has been simple: no.  I don't have any superstitions; in fact, the idea that something superficial would affect my race after all the hard work I've put in is repulsive to me.  Why would I leave the outcome of my performance up to superstitions?

Initially this seemed like a simple topic for me, I feel that training hard earns good performances not luck, but as I've thought about this, I do have some routines that I regularly participate in.  Some things may seem trivial, but some really do affect performance, however, not because of luck.

First, I usually get a haircut prior to an important race.  My wife, Shelby cuts my hair; in fact I have only paid for one hair cut in my life.

Growing up in the country my mom or sister always cut my hair.  The only haircut I paid for was before my wedding when Shelby thought I should get something "professional." I think she does just fine.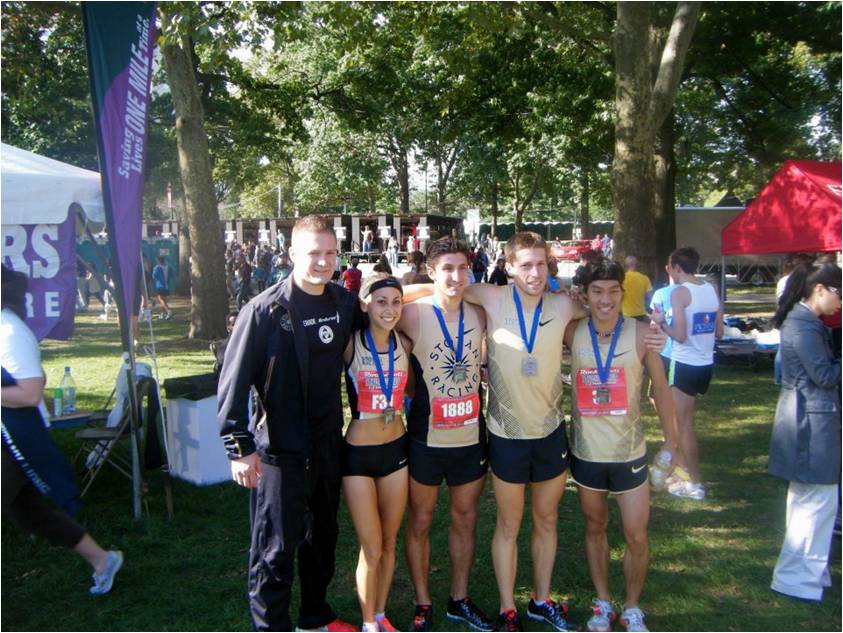 John Aris, Maegan Krifchin, Chris Raulli, Fred Joslyn and Jared Burdick
In college, when I had very long hair, I went almost 3 years without a haircut.  My coach at the time, Jack Daniels told me I would run faster if I cut my hair.  I thought he was joking at first, but he wasn't.  Later that season, I ran a track race and lost by a very narrow margin, in fact on paper it looked like a tie, I had run the exact time as my competitor to the hundredth of a second, but he beat me by a thousandth of a second.

It was then that I decided that very tiny things like getting my hair cut short was worth it.  Although that is not the only thing I do to save time.  I shave my legs before major competitions to be more aerodynamic I also rip all of the extra tags and strings off of my running uniform and shoes.    Fortunately the shoe I race in, the Nike Lunaracer weighs less than 7 ounces each.  One of my running shoes weighs less than the box that it comes in.

While I've learned that a race isn't over until the finish line, I've been a part of some great finishes.  In 2010, 10 days after my daughter Chloe was born I won the Johnny's running O' the green by 2 seconds, I took the lead 30 meters before the finish line.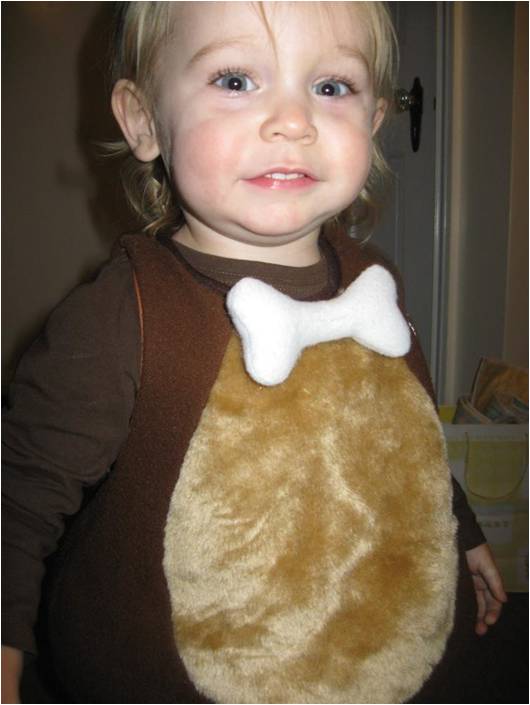 Chloe Joslyn

This year, the exact same thing happened…almost.  First my wife Shelby and I had a son Gabriel on November 18.  Then 6 days later on Thanksgiving I raced my favorite race of the year called the Run for the Diamonds.

This race is in Berwick, Pennsylvania, about two hours from where I grew up in Binghamton.  I've run the diamonds race 9 years in a row and it has become a family tradition.  Every thanksgiving I run the diamonds race and then head to Binghamton to enjoy thanksgiving with our family.

The Run for the Diamonds is appropriately named because the top 7 finishers receive diamonds.  Men win men's diamond rings and Women win diamond pendants.    This was the 9th time I've raced the Diamonds race and I've been in a few great races down there.    I have finished in the top 7 the past 8 years and in 2006 I won the race.  I have returned every year in attempt to win the race a second time and come up short every year.  In 2007-2010, I have finished 4th, 4th, 3rd, 3rd during those 4 races.  Each year I led at some point during the race.

This year has been special and I was prepared to battle for another win at the Diamonds race.  It was sunny and cool on race morning, a beautiful day for a race.  I love the excitement and adrenaline of standing on a starting line with the gun in the air everyone waiting with anticipation of the start.  Soon after the start I jumped to the front and began to pull away from the field.   My first 2 mile splits were 4:57 and 4:59.  I felt good and momentarily thought I might be running the whole race alone.

However, before the 2 mile mark, I heard footsteps as Nick Hilton caught me and pulled aside me.  At the 2 mile mark the course turns upward and ascends a climb of over 500 feet of elevation gain over about a mile and a half.  Nick and I ran stride for stride the entire way up this brutal climb running the uphill miles in 5:57 and 5:29.  I was able to stay with Nick but I was using everything I had to stay on his shoulder and I tried to hide how bad I was hurting from him.  I tried to keep my body language relaxed, but I was running at maximal effort.  Nick would gain a step on me and I would pull even again.

Once we reached the top of the hill we go down a short descent before climbing a much smaller hill.  On the smaller hill however, Nick pulled away from me.  I had run as hard as I could to get to the top of the 500+ foot mountain and my legs were heavy and tired now.   I just tried to keep it as close as possible to Nick knowing that we would soon be going downhill again and I am a much better downhill runner.

Nick gained about 30 meters on me before the course turned downward.  While 30 meters is only a 5 or 6 second advantage in a close race, it is a long way.   The second half of the course has a series of rolling down hills and on each one I sprinted to gain ground on Nick.  I finally caught him at 6 and one half miles.  We were again even.   Once again we were shoulder to shoulder and I was suffering.  I felt like I was struggling to stay even, but I knew that anything could happen in the end, so I just took it one step at a time and stayed with him.

Nick would throw in surges and pull a step or two ahead of me and I would fight to get back on his shoulder.  It seemed he was in control and I was forcing myself to keep up.  As we passed the 7 and then 8 mile marks we were both visibly in pain, and I was starting to get a deep sinking feeling in my stomach because I knew that we were about to put ourselves even further into pain.  As we turned onto Market Street, where the race starts and finishes, the spectators were watching in amazement as not many races are this close and exciting.

The fans lined the street and were pushing right out onto the course, we ran down the middle of the road where they left enough room for us to pass by.  With about a half mile to go, Nick made his move, he accelerated and I tried to go with him but I just could not seem to summon the strength to make this move, I was completely spent.  Nick pulled about 20 meters ahead of me and we ran down the final stretch seemingly with the finish order in place.  I was disappointed but knew that I had run as hard as I possibly could.

The race was not quite over however.  As we came to the final 200 meters I knew this was the last point in which I could still have a chance to catch Nick if I could manage a way to dig deep and find a finishing kick.  Somehow, I was able to accelerate. My quads felt like I was going to crumble and fall to the ground but instead, step by step I gained on Nick, but the finish was quickly nearing.

With 100 meters to go, he was still about 10 meters ahead of me.  We were both sprinting now.  I continued to gain on him.  With 20 meters to go, he still led, but barely.  With 10 meters to go, I pulled next to him and we momentarily ran shoulder to shoulder one more time before I pulled around him just in time to raise my arms in victory as I crossed the line.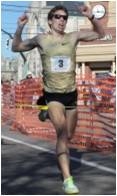 I was completely exhausted, but also exuberant that I had once again won the Run for the Diamonds.  I had won by less than one second, 42 hundredths of one second to be exact.   In the 102 runnings of the Run for the Diamonds this was the closest finish in history.

Coincidently my friend and mentor Tom Carter previously held the closest finish, although he lost, by 2 seconds in that edition of the race.  Our final 5 miles of the course this year were: 4:57, 4:31, 4:45, 4:56, 4:44.  We had run our final 5 miles in under 24 minutes.  I have never run 5 miles that fast in my life.  My 9 mile time was 45:20 the fastest I have run in 9 tries by 31 seconds.   

The Diamonds race was a big confidence booster for me as I prepared for the Olympic Trials.  My training is now complete and I am in Houston to train on the course and make my final preparations.  The race will be held January 14, 2012 at 8 AM Central time.  The race can be seen on NBC. Out of the 158 men who have qualified, I am only seeded ahead of a few, but I intend to run down as many competitors as I possibly can, and then a few more.

Thank you to everyone who has supported me in my venture of chasing this dream, especially to my wife Shelby who has supported me in every way she can.  I thank God for the gift he gave me and pray that I can use it to the best of my ability.