Fleet Feet Syracuse Spring Triathlon 2018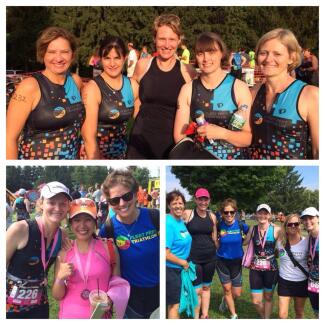 Program Dates: Thursday, May 2, 2019 - Saturday, August 4, 2019
Head Coach: Laura Henry
Program Cost: $299 or $279 for any Fleet Feet Training Program alumni (Please email Coach Laura for alumni code.) 
Benefits of the program include:
Detailed weekly training plans delivered via the online training platform Final Surge
Twice weekly group training/clinic sessions
Swim instruction in both the pool and open water
Transition practices
Fleet Feet Syracuse's Spring Triathlon Program is a short-course focused program designed to prepare you for your goal Sprint or Olympic-distance triathlon.  This program is appropriate for athletes of all ability levels, from those who haven't ever completed a triathlon, to seasoned triathletes. Our program places an emphasis on creating a fun, comfortable and motivating atmosphere for learning the fundamentals of swimming, biking, running, transitions, equipment, nutrition, mental preparation, and race day planning.  For seasoned triathlons, we can help you improve your race performance.
While there may be varying levels of ability within the program there is an expectation that athletes take responsibility for road safety, knowing the cycling routes (maps will be supplied in advance), and maintenance of their bicycles.
The program will run for 14 weeks, starting on Thursday, May 2, 2019 and finishing on Saturday, August 4, 2019.
Goal Races
Athletes can choose from the goal races listed below (race fees are not included with this registration), and will receive a plan specifically designed to prepare them to perform their best at their goal race.  Regardless of goal race selection, athletes will receive structured workouts for all 14 weeks of the program. Training plans with structured workouts will be delivered to each athlete via the online training platform Final Surge.  Goal Race options:
Group Training Sessions
Group sessions will be held on Thursday evenings (swim) and Saturday mornings (bike).  While structured running workouts will be included in each athlete's training plan, this program doesn't include group runs.  Athletes looking for group runs will be able to register for the Fleet Feet Syracuse Distance Training Program or Fleet Feet Syracuse No Boundaries Program for an additional fee.
Group Sessions will NOT be held on the following dates (alternate workouts will be provided in Final Surge that athletes can complete on their own):
Thursday, July 4 - In observance of Independence Day
Saturday, July 20 - Due to the Delta Lake Triathlon
From Thursday, May 2, 2019 - Thursday, June 6, 2019, swim sessions will be indoors at Southwest Community Center Indoor Pool (either 7:00 p.m. or 8:00 p.m.).  On Thursday, June 13, 2019, the swim sessions will move to be outdoors at Jamesville Beach County Park for the remainder of the season (5:45 p.m. start time). Locations will vary on Saturday mornings for the bike sessions, and will generally start at 7:30 a.m.
For more information, contact us by phone at 315-446-1444 or by email at lhenry@fleetfeetsyracuse.com.
TRANSFERS
A participant can transfer their program entry fee, in its full amount, to a future program if a valid transfer reason is provided within the first three weeks of the program.
Fleet Feet will provide a 50% transfer value of the program entry fee if a transfer is necessary within the first five weeks of the program.
After the five week period, no transfers will be allowed if a member needs to stop participating in the programs for any reason.
2019 Spring Triathlon Program More Info »
Program Start: Thursday, May 3, 2018
Program Fee: $299 or $279 for Alumni
Description: Short-course training program for athletes of all ability levels.