Today's Workout
May 16, 2020: 10-Minute Run Drill
Previous Workouts
May 14, 2020: The Pre- and Post-Run Exercises You Need to Do | May 13, 2020: Glute Strength with Coach Morgan | May 12, 2020: Fun Speedplay Workout with Ashley | May 11, 2020: 25-Minute FFXT at Home | May 9, 2020: Hill Repeats For Leg Strength with Pro Triathlete Heather Jackson | May 8, 2020: 20-Minute Full-Body Workout for Core and Leg Strength | May 7, 2020: Trail Thursday, North Country Trail System | May 6, 2020: Strides and Planks with Nate and Holly | May 5, 2020: Hip Flexor Stretching Routine with Amanda Brooks of Run to the Finish | May 4, 2020: Stability with FFXT at Home | May 2, 2020: Circuit Workout with ASICS Track and Field Athlete, Taliyah Brooks | May 1, 2020: Speed Work with 100-Mile World Champion Zach Bitter | April 30, 2020: 20-Minute Full Body Strength with @officialrunningchannel (do this workout in the TRE app) | April 29, 2020: Mechanics Run: Learn your Best Form | April 28, 2020: The Burpee Run | April 27, 2020: Core Strength and Stability, FFXT at Home | April 26, 2020: "Breathe Better" Interval Audio Run on The Run Experience App | April 25, 2020: Low Impact HIIT Workout with Justine Van Drunen | April 24, 2020: Hip Mobility and Flexibility Francheska Martinez | April 23, 2020: Trail Thursday Route - Rand Tract Loop | April 22, 2020: Total Body Balance Run: Fun Mish Mosh Circuit Run with Trail Sisters Founder, Gina Lucrezi | April 21, 2020: Run This Fun Speed Session to Get Faster and Learn Pacing | April 18, 2020 - FFXT at Home | April 17, 2020 - Mike Olzinski's Minutes Fartlek Run | April 16, 2020: Thursday Trail Route - Camillus Forest Unique Area | April 15, 2020: Leg Strengthening for Runners with Magda Boulet | April 14, 2020: Hip Strength & Stability for a Balanced Body | April 13, 2020: The Perfect Workout for the Quarantined Runner | April 11, 2020: Family-Friendly No Boundaries Walk/Run | April 10, 2020: The Ultimate Follow Along Home Workout for Runners | April 9, 2020: Three Falls Woods Trail Route | April 8, 2020:10-Minute Run Drill with Coach Nate | April 7, 2020: Chest Opening Yoga for Runners | April 6, 2020: The All in One Strength & Tempo Run with Coach Morgan | April 4, 2020: 0-5K Movement & Awareness Workout | April 3, 2020: Hill Repeats with The Run Experience's Coach Nate | April 2, 2020: New Route: Get on the Trails | April 1, 2020: 12-Minute, Low-Impact HIIT Workout | March 31, 2020: Track Tuesday Workout | March 30, 2020: Stress-Busting HIIT Circuit | March 29, 2020: Solo-Selfie Contest | March 28, 2020: Run/Walk & Family | March 27, 2020: Restorative Yoga for Runners | March 26, 2020: Hit the Trails | March 25, 2020: Get Out & Move Workout | March 24, 2020: Track Tuesday Workout | March 23, 2020: FFXT at Home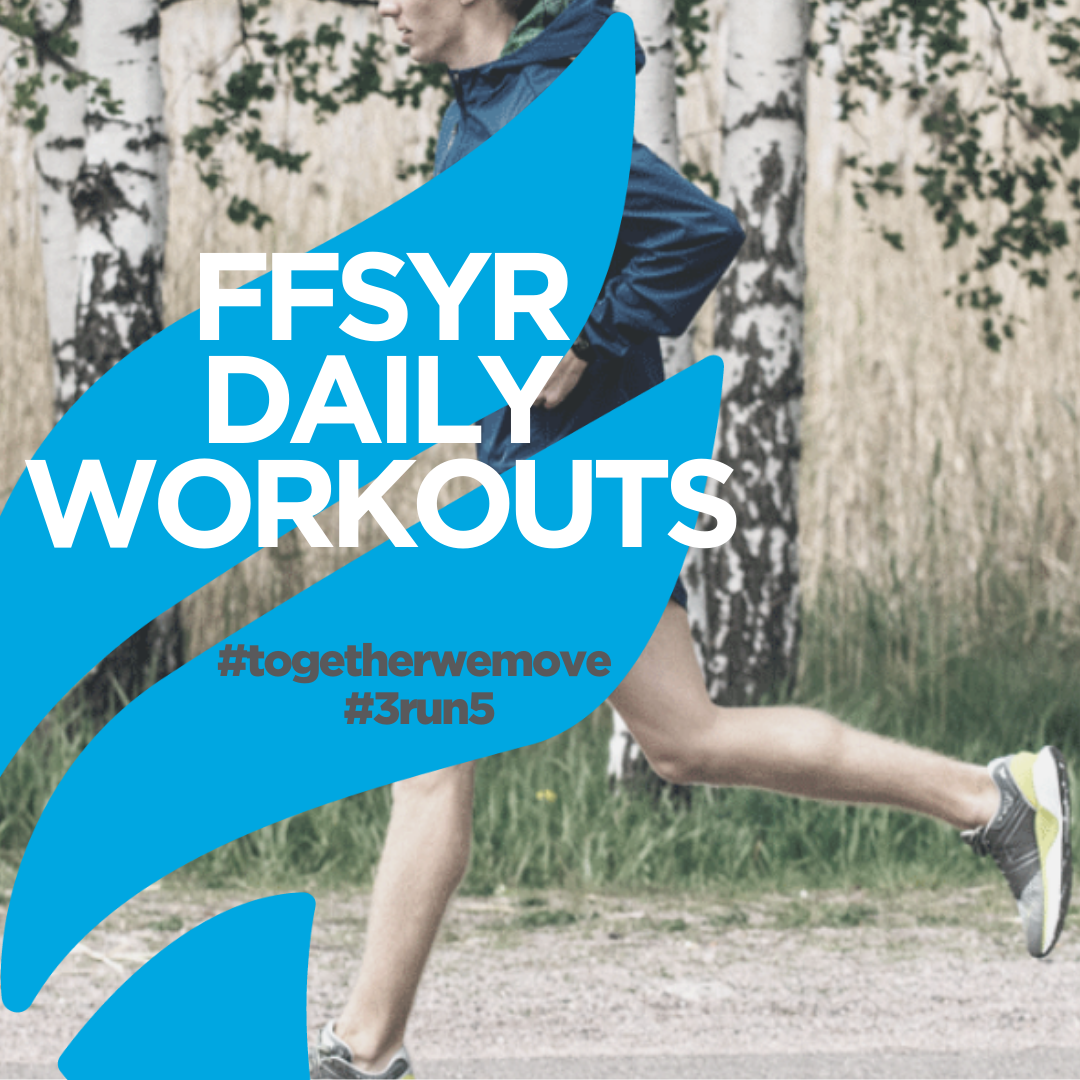 Daily Workouts #3run5 #TogetherWeMove 
Daily #3run5 #TogetherWeMove Workouts
The store may be closed, but RUNNING IS NOT CANCELED.
We miss our running/walking groups and training buddies. So while we maintain a safe social distance, our Fleet Feet coaches are working together to provide free daily workouts to the #3run5 community. This group is open to runners and walkers of all abilities!
Keep Moving
Sign-up below and we'll send a daily workout directly to your inbox. Workouts can be modified for any ability or intensity. The important part is to keep moving.
Stay Connected
Don't forget to share with us how you're staying active by tagging @fleetfeetsyracuse using #3run5 and #TogetherWeMove. We'll reshare to keep the motivation and suppoort up and each week we'll pick winners to receive cool FFSYR gear and prizes.
Updates on our reopening, running and walking routes and workouts, and wellness tips will be posted on:
fleetfeetsyracuse.com / Facebook: facebook.com/fleetfeetsyracuse / Instagram: @fleetfeetsyr
You can also refer back to this page to find previous workouts as they come out.
Daily Workouts #3run5 #TogetherWeMove More Info »
Program Start: Open Enrollment
Program Schedule: Daily
Program Fee: FREE
Description: We miss our running groups and training buddies. So while we maintain a safe social distance, our Fleet Feet SYR coaches are working together to provide free daily workouts to the #3run5 community. Sign-up and we'll send a daily workout directly to your inbox. #TogetherWeMove #3run5