Laura Walker, Head Coach
Distance Training, Fleet Feet Running Club Syracuse
Q: Favorite running shoe at the moment or all time? Or if you could be any shoe, what would it be and why?
A: Currently the NB 1080v10, Brook's Hyperion Tempo, and Saucony Peregrine. It could change at any time.
Q: Favorite local route or areas to run?
A: I don't think I have a favorite route around Syracuse, but I do like running the roads from Green Lakes. I have two favorite routes in Camden, NY. They are my all time favorite and super challenging. River road, and Dunbar road. Both have massive hills and I hated them in highschool, but now I will run them when visiting my parents.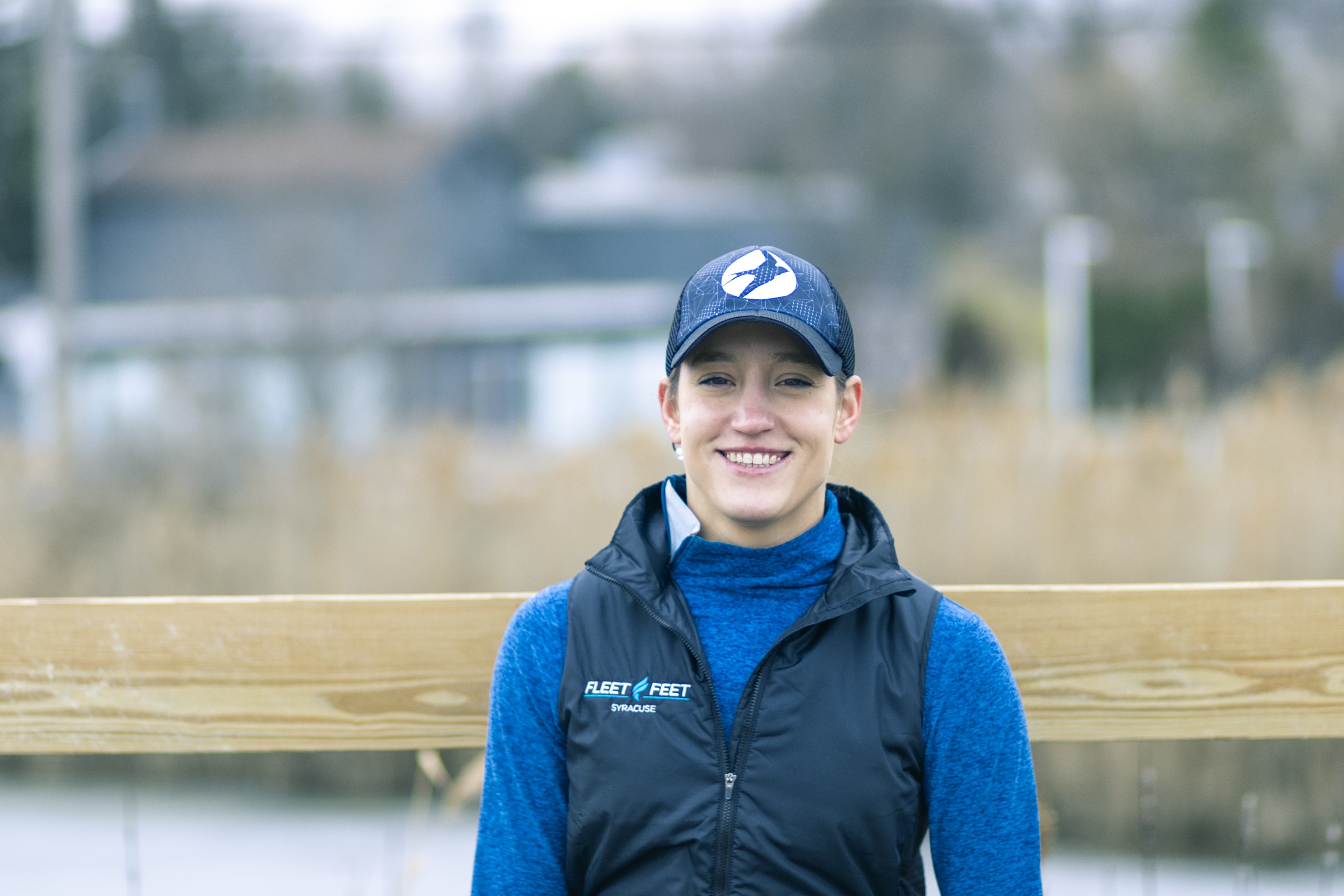 Q: Can you remember how you got started running?
A: I wanted to do track in 7th grade like everyone else, and I was easily convinced to try XC by my gym teacher. I had no idea what it was. It was awful, but I kept showing up and then continued to show up for the next 6 years.
Q: Why do you continue to run?
A: There are a lot of reasons.
I really enjoy it if it's not above 50 degrees.

I have friends that do it.

I kind of hit 30 and decided I was actually going to start racing and training with specific goals. This is probably influenced by running friends working towards similar goals. They're positive influences on my running for sure.
Q: Favorite song/audiobook/podcast or running playlist?
A: I have a pretty pop/rap heavy playlist. Lots of songs from the late 90's early 2000's, but some more current ones as well. If it's a pop I probably have it on the list. If it's a song I that I can dance to while I'm waiting to cross the road, it's probably on my playlist.
Q: Go-to run outfit or favorite piece of gear/apparel?
A: Anything Oiselle Lux, my Saucony Drizzle Jacket, and my Koala Clip.
Q: Tips for a beginner runner or someone just starting?
A: Find someone that hypes you up and hype up every single milestone you hit!! Celebrate them.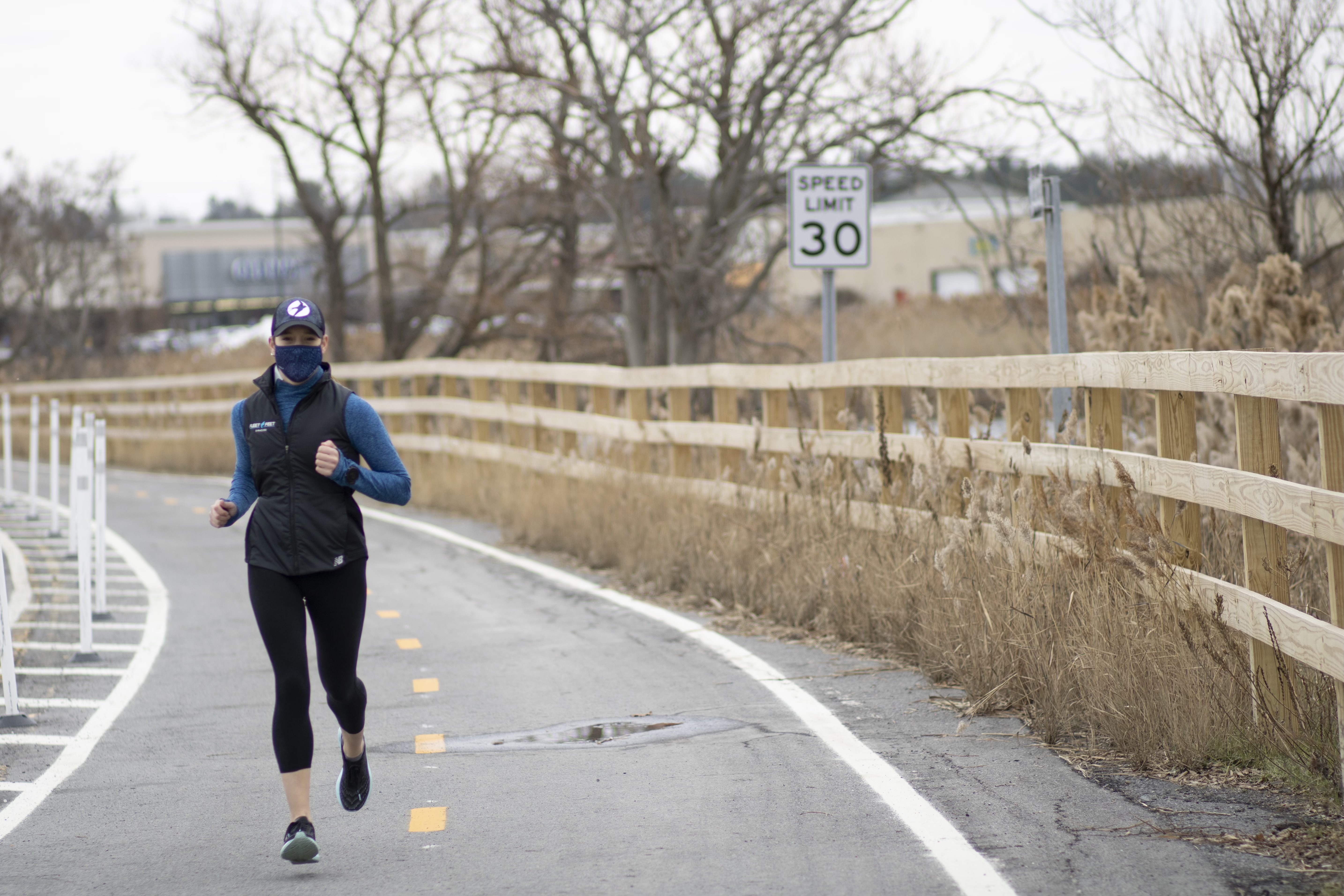 Q: Trail or road and why?
A: Both! Trails offer a different challenge and different scenery than roads. You can also see some pretty cool flora and fauna out on the trail. I'm also a little bit of a wildlife nerd, so I look for things as I'm running. I identify birds, trees, stop and flip over random logs mid run if I'm alone to see if there's anything cool under it. Country roads are my favorite. They're kind of relaxing. You can just go forever, and it can be pretty meditative. I do my best thinking there. You can also get some really great views and some really great sunrises or sunsets.
Q: Favorite quote?
A: "Don't try to rush progress. Remember – a step forward, no matter how small, is a step in the right direction. Keep believing" – Kara Goucher
Q: What are you doing when you're not running or at Fleet Feet?
A: When I'm not at Fleet Feet, I'm probably either at the barn with my horses, or hiking someplace with my dog. I like to spend time outside doing things. Winter is my favorite season, so I enjoy a lot of winter activities.
---
Distance Training, Meet Coach Laura More Info »
Program Start: Wednesday, February 23th at 5:45pm
Program Schedule: Wednesdays at 5:45pm at Willow Bay Park and Sundays at 8:00am at Fleet Feet in Dewitt or Green Lakes State Park
Program Fee: $125 for 10 weeks or $115 for Fleet Feet alumni
Description: Our Distance Training Program is a coached program that will build/maintain fitness getting you ready for longer races. You will receive coaching at in-person group runs twice per week, a weekly email from your head coach with important training tips, and an online training schedule to follow for the duration of the program. Participants also receive access to our private Facebook group page with fellow runners and coaches to share tips, ask questions, and motivate one another with encouragement and funny memes.