Annual Distance Training Membership
What: Entry to all distance running programs offered in 2021
Cost: $345 for an entire year of in-person, coached training.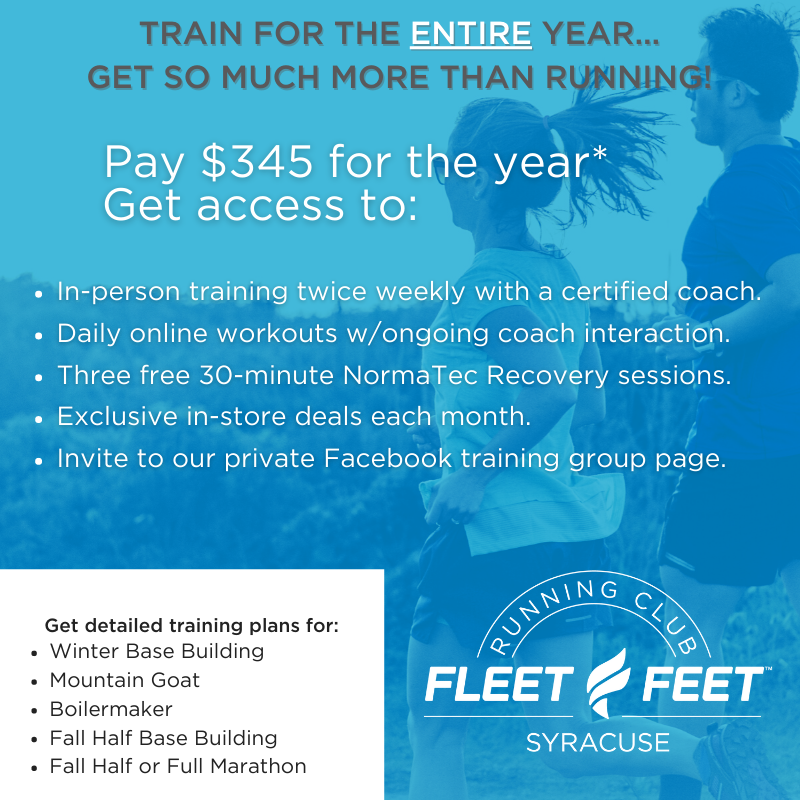 Includes the following programs:
Winter Base Building
Spring Mountain Goat
Summer Boilermaker
Fall Half Base Building
Fall Half Marathon and Marathon
This plan gets you access to all of our distance programs, helping you prepare for races such as the Syracuse Half, Lake Effect Half, Mountain Goat, Boilermaker, Wineglass, Empire State, or other races of your choosing. These programs cost $125 - $165 on their own so the Annual Plan is a huge savings if you are considering training with us all year long!
REFUNDS
A full refund will be given to anyone up to midnight of the first day of the session if a valid reason is given for needing to cancel a membership.
A refund of 75% will be given for those that provide a valid canceling reason up to two weeks in to any 10-week program such as No Boundaries and FFXT or up to three weeks for any program that is more than 10 weeks long such as the distance or triathlon programs.
After the two or three week period, depending on the length of the program, no refund will be given if a member needs to stop participating in the programs for any reason.
TRANSFERS
A participant can transfer their program entry fee, in its full amount, to a future program if a valid transfer reason is provided within the first three weeks of the program.
Fleet Feet will provide a 50% transfer value of the program entry fee if a transfer is necessary within the five weeks of the program.
After the five week period, no transfers will be allowed if a member needs to stop participating in the programs for any reason.
2021 Annual Distance Membership More Info »
Program Start: Programs are throughout the year.
Program Schedule: Specific program schedules will be released as seasons approach.
Program Fee: $345
Description: Train all year with Fleet Feet with these annual training plans.