Sweat X Detergent

Sweat X Detergent is a specially formulated, high-performance laundry cleaning system that is uniquely designed to lift and remove embedded foul odors and the toughest stains from all fabrics. Sweat X does not rely on the usual toxic properties used by standard laundry chemistries to achieve its cleaning results. Instead, Sweat X deploys NANOVASIVE™ technology that exfoliates stains and infested sweat known to cause odor in uniforms and activewear.


Sweat X is biodegradable and non-toxic with no adverse dermal impacts. Sweat X uses NANOVASIVE™ technology that is safe not only for activewear, but on all types of fabrics. Sweat X can be used in all types of washing machines, even high efficiency. One 45-ounce bottle will wash up to 45 loads of laundry.
Exfoliates harmful bacteria that cause odor from fabrics

Organic, Non-toxic & Biodegradable

Safe for Sensitive Skin

No added dyes or fillers

Anti-Static

No fabric softener or dryer sheets needed

Restores fabric performance & wicking

Safe for all fabrics

Works with traditional and high efficiency (HE) washer
Sweat X Stain Remover Spray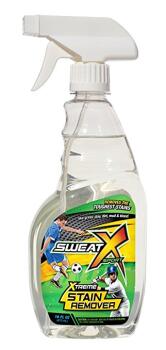 Sweat X Stain Remover Spray is for athletes who are tough on clothes.

 From clay on the baseball diamond to filth on the football field, athletic stains are some of the most difficult to remove…until now. For the toughest stains, unleash Sweat X stain remover spray! Sweat X features a proprietary nano-scale formulation that lifts and removes the stain particles from the inside out, leaving fabrics looking like new. Sweat X Stain Remover is safe for all fabrics, non-toxic and biodegradable. 

 
Sweat X Odor Eliminator Spray

Tired of sweat stench ruining your gear? Sweat X Extreme Odor Eliminator is the solution! With its smell of victory scent, Sweat X wipes out baked-in sweat stench and odor to leave equipment smelling like new! The best part is, it is quick and easy to use. Simply lightly spray all absorbent fabrics or sports equipment without over saturating and allow item to dry in a ventilated area. 
Exfoliates harmful bacteria that cause odor from fabrics & gear

No washing required

Organic, Non-Toxic & Biodegradable

Safe for Sensitive Skin

No added dyes or fillers

Safe for all fabrics & materials