We have bundled three of the most effective products for treating Plantar Fasciitis in a kit and are offering it at a discounted price when purchased together.
The total kit price is $60 (the price of items if purchased separately is $75)
What the Plantar Fasciitis kit includes: 
Strassburg Sock 
The Strassburg Plantar Fasciitis Night Sock is the first and only sock proven medically effective for the treatment of plantar fasciitis. The average recovery time in a large, independent research study was 18.5 days with 97.8% of patients recovering within eight weeks.
What is the Strassburg Sock?
The device consists of a tubular knit material that fits "over the calf" with two attached adjustable straps to maintain the foot in a neutral to slightly stretched position. When worn at night the device will apply a force that results in the reduction and/or elimination of the pain felt during those first steps in the morning. 
How does the Strassburg Sock work?
When worn as prescribed, it does not allow the plantar fascia to contract while in the prone or supine position. The device holds the ankle and forefoot joints in a position of slight dorsiflexion that prevents a position of plantarflexion, that is the plantar fascia is not allowed to contract.
What are the advantages of the Strassburg Sock?
It is very easy to use.
It does not lock the ankle joint into any one position thus allowing some movement between the various joints preventing possible joint compression pain.
It can be safely worn for several hours without adverse effect when applied properly.
It can be worn to bed, provides no significant restrictions and will not interrupt normal sleep if worn as directed.
It is an effective device providing low cost relief of heel spur symptoms.
It can reduce/eliminate the pain experienced with the first morning steps.
It can, over a period of time, strengthen the arch of the foot.
It can supplement and not interfere with the various traditional doctor's treatment.
Plantar Fasciitis Massage Ball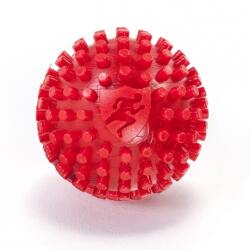 Using ancient acupuncture techniques the Strassburg Medical Plantar Fasciitis Massage Ball helps reduce tension, increase circulation and provide fast relief from plantar fasciitis symptoms. Simply roll the ball under your feet to activate the soothing relief. Use this small, portable system anywhere at your convenience.
Developed by pharmacists and endurance athletes.
Apply more pressure for a deeper massage than using a golf ball or tennis ball.
Latex-free.
Zensah Plantar Fasciitis Compression Sleeve (single)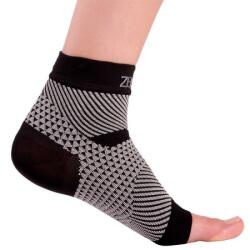 The Zensah PF Compression Sleeve is designed using special technology to help provide all-day relief from plantar fasciitis pain. It is able to be worn from everyone from athletes to those on their feet all day.   
T-Band Compression lifts and stabilizes from the achilles to plantar fascia.
3D Geo Technology provides pin-point compression to relieve arch and heel pain.
Silver ions for anti-odor protection.
Moisture wicking fabric keeps feet dry.
Targeted compression improves circulation for faster recovery.
Strategically placed breathable mesh restrains pinching.
Comfortable for running and recovery.