The MilestonePod is a simple and accurate tracking device for runners and walkers of all levels. No buttons. No hassle. Just clip and go.
Features
Tracks gait and performance metrics. Become a better, more efficient runner by knowing the basics about your gait and where you can make improvements. These metrics include cadence, rate of impact, foot strike, leg swing and stride length.
New shoes? Same Pod! When it's time to get new shoes, there is no need to get a new Pod. Simply reset your Pod in the app and input your new shoe information. No run history will be lost!
Lightweight and durable. The MilestonePod weighs 13 grams, so you won't even feel it on your foot. And don't worry about the weather – the pod is waterproof!
Syncs via Bluetooth in seconds. No need to carry your phone on your run. Sync to your smart device after you get home. Don't worry about forgetting – the tiny Pod has enough memory to store up to 20 hours of running or walking.
No need to recharge. The Pod uses a standard watch battery that usually lasts longer than the average pair of shoes (six to eight months). So take one device off your daily recharge list!
No GPS signal needed. The MilestonePod uses sensors and an accelerometer, so it is not dependent on a GPS signal. You won't need to wait for a signal or worry about running indoors or in the woods. The Pod works anywhere and everywhere.
Includes a shoe odometer. You will always know how many miles are on your shoes. No manual tracking required! The MilestonePod counts every step you take toward the life of your shoes.
 A sample image of a Run Detail Screen: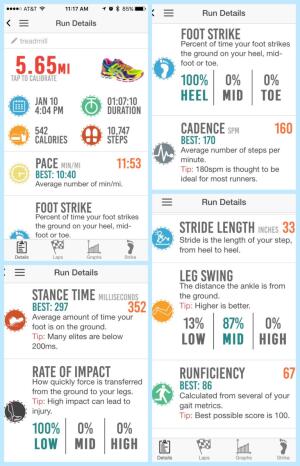 You can choose to receive training tips via email based on areas the app shows you can use improvement. It's like having your own personal coach! And, because every person wears their shoes differently, the app will calculate the life of your shoes based on the specific shoe you are wearing, your height, weight and stride. This is critical data so you will avoid injury from wearing a shoe that isn't providing proper cushion and support.
Retail Price of MilestonePod $30