Even the smallest tasks can overwhelm you with pain when you have a foot injury. Simply walking from point A to point B can reduce you to tears. If you have a foot injury and spend any amount of time on your feet, your search for a solution has ended. Icy Feet makes icing easy!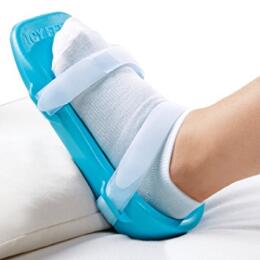 It is recommended that people walk 10,000 steps per day*, which is nearly equivalent to five miles. Walking, as well as many other daily activities, can cause foot pain. Icing your feet is the most effective way to reduce foot pain. Anyone who needs to ice his or her feet can benefit from the ease of using Icy Feet!
Design Benefits
The patented Icy Feet™ cold pack features an engineered insole shape with a recessed heel cup and elevated arch to allow for a comfortable fit while providing constant contact at the point where relief is needed.
Easy to use
Easy to clean
Streamlines icing process
Features an engineered insole shape with a recessed heel cup and elevated arch
Two strategically placed straps so that you can elevate while icing
One size fits all (left foot and right foot cold packs can be purchased separately)
Freezes solid
Continuous contact with the foot where relief is needed most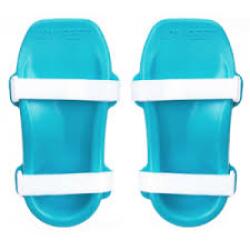 Icy Feet helps to relieve pain from foot ailments such as:
Plantar Fasciitis: 

Plantar fasciitis is inflammation of the thick tissue on the bottom of the foot. The most common complaint is pain and stiffness in the bottom of the heel. The heel pain may be dull or sharp. The bottom of the foot may also ache or burn. Icy Feet can help to relieve all of these symptoms.
Inflammation: 

Use Icy Feet to treat inflamed feet, which may be caused by increased activity or in association with aging. Inflammation is also one of the most common symptoms of plantar fasciitis.
Bruised sesamoids: 

The sesamoids can become bruised, inflamed, or even fractured if the initial pain and irritation is ignored and physical activity is continued. Icing regularly with Icy Feet helps!
Bone spurs: 

A bone spur can form on the bottom of the heel. Pressure at the back of the heel from frequently wearing shoes that are too tight can cause a bone spur to form on the back of the heel.
Cramping: T

oo much exercise, not enough oxygen, or dehydration can all cause painful cramping in your feet. Using Icy Feet can help ease your pain from foot cramps.
Icy Feet Retail Price $35 each (comes in Right Foot or Left Foot) 
*
The Surgeon General's Call to Action to Prevent and Decrease Overweight and Obesity
U.S. Surgeon General, David Satcher, M.D., Ph.D.