Track Tuesday Daily Workout
#3run5 #TogetherWeMove
March 24, 2020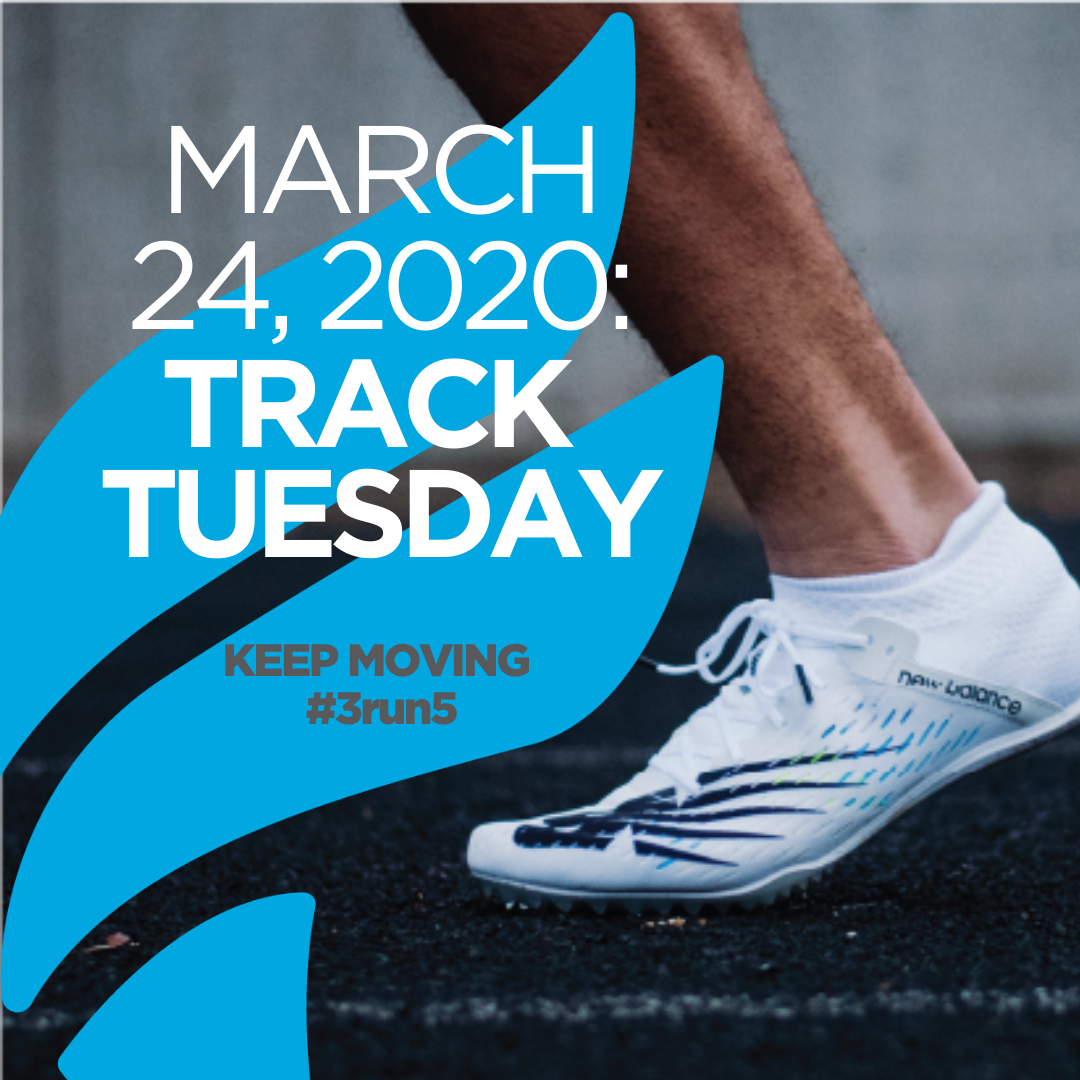 Workout Focus: Track/Speed
Est. Time: ~45-60 minutes
Coach's Notes: Don't skip doing some dynamic stretches first to warm-up. And bring your foam roller or other massage tool to use after!
FFSYR VIDEO: COACH GRANT EXPLAINS THE WORKOUT
Workout
2 x (4 x 400m @ 5K race pace with 400m recovery, 2 x 200m @ "finishing speed" with 400m recovery)
Tip: 
If this is your first track workout, do it once. If you want to increase the difficulty, do it twice!
Warm up:
10-15 minute warm-up with some dynamic stretches and light jogging/walking.
Part 1:
Run 400m (~1/4 mile) at 5K race pace (moderately hard to hard effort), recover in between with 400m light jog or walk to jog. Repeat 4 times for one cycle.
Part 2:
Run 200m (~1/8 mile) at "finishing speed" (hard effort faster than 5K pace), recover in between with 400m light jog or walk to jog. Repeat twice.
Cool Down:
10-15 minute cool down: walking, light jogging, dynamic & static stretches. 
Don't forget to foam roll and/or self-massage.

Let us know how your run/workout went. Take a photo before, during or after and tag Fleet Feet Syracuse using #3run5 & #TogetherWeMove. We'll reshare posts to keep the motivation and support up!
---
The store may be closed, but RUNNING IS NOT CANCELED.
We miss our running/walking groups and training buddies. So while we maintain a safe social distance, our Fleet Feet coaches are working together to provide free daily workouts to the #3run5 community. This group is open to runners and walkers of all abilities!
Keep Moving
Sign-up here and we'll send a daily workout directly to your inbox. Workouts can be modified for any ability or intensity. The important part is to keep moving.
Stay Connected
Don't forget to share with us how you're staying active by tagging @fleetfeetsyr using #3run5 and #togetherwemove. We'll reshare to keep the motivation and support up. Plus, each week we'll pick winners to receive cool FFSYR gear and prizes.