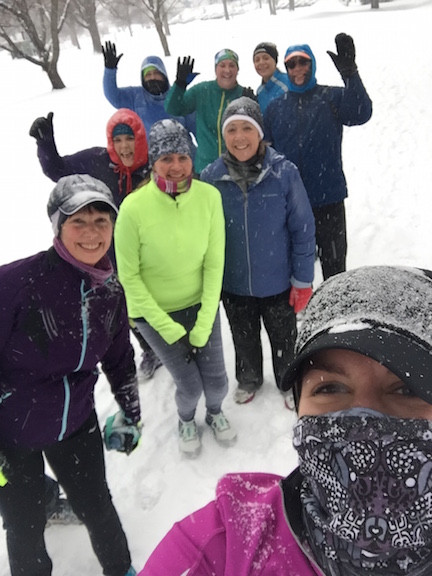 By Coach Mallory
The fall sessions of No Boundaries and Personal Best just wrapped up and we're itching to get back out with our teams to prepare for the next challenge! In addition to opening winter registration, we're excited to announce not one, not two, but THREE scholarships available for the upcoming session of No Boundaries! Our diehard coaches and athletes feel so strongly about the benefits of keeping up with fitness in the winter that three NoBo scholarships were donated for this season. THANK YOU to our anonymous donors and for the camaraderie, motivation and teamwork you all embody.
To register for or learn more about No Boundaries and the winter scholarship, CLICK HERE.
Not sure if you can handle winter running? Check out these five tips and tools that will get new and seasoned runners through a Syracuse winter.
Layer up and leave the cotton at home! Wool or synthetic blends have the best wicking properties and will keep you comfortable and dry. Start with a close-fitting base layer and pair with a weather resistant outer layer for the toughest winter days. Running pants come in wind-proof or simply thicker varieties for the cold days. Some of us run warmer than others, so start with the 15 degrees warmer rule and dress yourself as if it's 50 degrees out when the thermometer reads 35.

Cover your extremities! Again, we all run different, but covering your ears and/or head on the coldest Syracuse days is a good way to start your winter workouts. Wool socks and a pair of gloves are also winter must-haves.

Good running shoes! This tip is for all seasons, but come wintertime, you may also consider waterproof options or those with more aggressive tread. Stop in to Fleet Feet Sports to check out the all-season shoes we have this year!

A Buff! The Buff is a versatile accessory that can be worn in a variety of ways, but the reason this piece earns its own spot on the list is because of the way it blocks wind while still allowing you to breathe. Many runners struggle with breathing the cold winter air, but wearing a Buff up over your nose and mouth not only protects your face from the wind, but also acts as a buffer before the cold air reaches your lungs.

A Supportive Team! Let's be honest, getting out from under the warm bedsheets is not the easiest thing to do in the winter months. However, when you have a team and friends to meet up with for a workout, the struggle is slightly less. Don't forget some extra motivation and plan a post-workout breakfast date. I hope to see you this winter!