By Coach Mallory Mitchell
Why run with a group? The reasons are many, however simply connecting with people over a shared experience is what I find to be the greatest draw. Just ask Joe and Julie! Joe is a current member of the No Boundaries 5K Training Team (NoBo) and coming up on his third run through the program, advancing levels each time. Julie is a former NoBo athlete, turned half-marathoner, turned NoBo coach!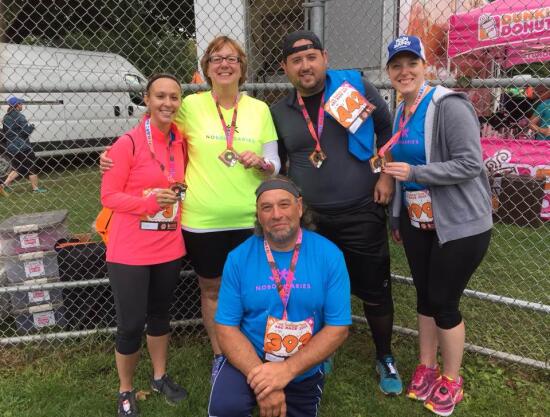 Meet Joe: At the age of 55, Joe Monfiletto (bottom center in the above photo) decided to begin his running journey. He started out solo with the help of running apps and other plans, but found he wanted more out of the experience. After learning about the No Boundaries Program, Joe joined Fleet Feet's team last summer. He does not live in the immediate Syracuse area, but through his dedication and the encouragement of his supportive coaches, Joe completed a 5K as a member of a team. He noted the feeling as he approached the finish line of our practice 5K that summer, seeing his teammates cheering him on as he completed the challenge. He may not have been the fastest member of his group, but part of the team all the same. He sends a big thank you to everyone and continues to move forward, one foot at a time!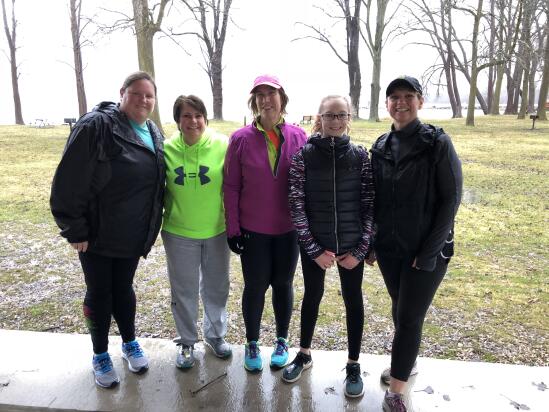 Julie Burgess (far left in the above photo) started in No Boundaries back in 2015 with the goal of getting into running, but she didn't think she'd become "a runner." Her circle of friends seemed to talk of nothing else, so when she heard there was a training program designed to help anyone gradually make their way to the 5K distance through a healthy and effective progression, she was all over the opportunity. Julie found herself running 5Ks and with apprehension similar to when she started No Boundaries, she began training for a half marathon with Fleet Feet's distance training program. An avid runner now for several years, Julie decided it was time to give back and coach the program where it all started. She says, "I love seeing others accomplish a goal they thought might not be attainable; the same way I felt."
I can tell you from personal experience, we've all been there. Thinking to ourselves, there is no way we can run for a minute, a mile, a 5K, a half-marathon, etc., but with each new feat overcome and your coaches and teammates by your side, you'll be amazed at what you can accomplish. Coach Julie says, "anyone who thinks, 'I can't,' should sign up for this program because you can and you will!"
Join one of Fleet Feet's Training Teams this summer to get more fit and have fun doing it! All running and walking programs start up the second week of July. No Boundaries 5K Training and the Kids' Training Teams meet concurrently with both programs running a Summer Special registration rate of $99!
Coach Mallory