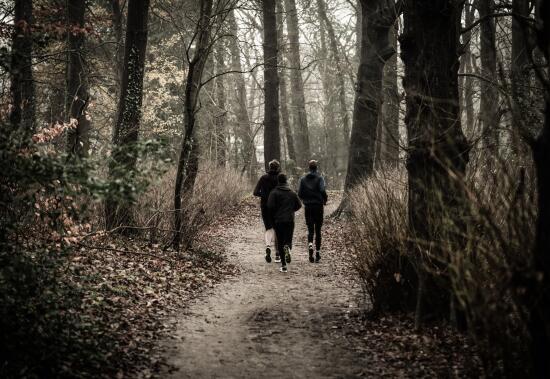 By Ed Griffin
The Fleet Feet Trail Running Series starts this Thursday night and it brings up the question, what is trail running and why should I try it?
Trail running is a broad category and can utilize a lot of different surfaces. Grass, single and double track trails (track = room for 1), technical trails, meaning rocks, tree roots, water, mud, sticks and a variety of uneven surfaces and open fields all fit the trail running bill.  You may have noted that the canal towpath was not listed as trail running because it is generally a groomed or paved surface that is mostly flat or even, so not considered trail running in a true sense.
There are numerous benefits to trail running including:
Softer surfaces are easier on your body
Hills and varying surfaces will make you a stronger runner
Many trails are wooded, meaning more shade on hot days
The sights, sounds and smells are hard to beat
Running pace will be impacted and you will run slower
It is OK to walk up really steep hills with slippery or uneven surfaces
Do you need any special equipment to trail run? The answer here is probably. If you are going to be out on a long trail run, having a hydration, belt, vest or similar device will make sure you are prepared for anything. It will take longer to cover 4 miles on trails than it would on the road, canal path or treadmill, so having fluids and a snack is a wise strategy.
Trail shoes can also benefit you and the type depends on where you are running. Say you run in the early morning dew or during wet conditions, a waterproof trail shoe with an aggressive outsole (bottom) would be a good choice. Technical trails with lots of uneven surfaces, rocks, roots and sticks demand shoes with a stiff and aggressive lugged outsole to protect your feet and provide tractions.
Fleet Feet stocks a variety of tools to help you be safe and comfortable on the trails and during our upcoming trail series, you can demo them for free. Altra, Hoka, Soloman, Saucony and Nathan will be present during the series to answer questions and let you try out their products. Please check the schedule for which companies will be at which trail run. The series is free but you need to sign up online or at the run to participate.
This week our first stop on the trail series is at Clark Reservation, Route 173 in Jamesville. The run starts at 6:00 p.m.; arrive early to try products before we hit the trails!