The weekend of October 12 & 13, 2019 was a ground-breaking weekend in the world of endurance sports.  The following notable things happened:
Eliud Kipchoge of Kenya became the first human to ever break the two-hour barrier in the marathon by running 26.2 miles in 1:59:40.  He accomplished this feat in a controlled event in Vienna, Austria on Saturday, October 12, 2019. This time is not eligible for the world record due to how it was achieved, but the accomplishment is still absolutely monumental.

Jan Frodeno of Germany won the 2019 Vega IRONMAN World Championship in Kailua-Kona, Hawai'i on Saturday, October 12, 2019 and set a new course record of 7:51:13.  Broken down, this was a 2.4-mile swim completed in 47:31, a 112-mile bike ride completed in 4:16:03, and a 26.2-mile run completed in 2:42:43.

Brigid Kosgei of Kenyaset a new marathon world record for women at the 2019 Bank of America Chicago Marathon on Sunday, October 13, 2019, running those 26.2 miles in 2:14:04.
Everything is impossible until it isn't. 
Until last weekend, it was impossible for a human to run a marathon in under two hours, for someone to finish the IRONMAN World Championship course in less than 7:52, and for a woman to run a marathon in less than 2:15.  But in just two short days, these three athletes turned the impossible into the possible. They stood at the top tier of their respective sports last weekend, and as the world watched them break down barriers and log themselves into history books, one couldn't help but wonder: how did they do it?
Setting the Goal
Like any human who achieves a goal, these athletes started by setting the goal.  Then, they analyzed what would need to be true in order for them to reach the goal. Once the decision has been made, they very diligently, consistently, and dutifully got to work. They surrounded themselves with the best teams and support systems that could help them attain the impossible.  They fine-tuned their skills. They stayed injury-free. They invested in good equipment to help them perform at their very best.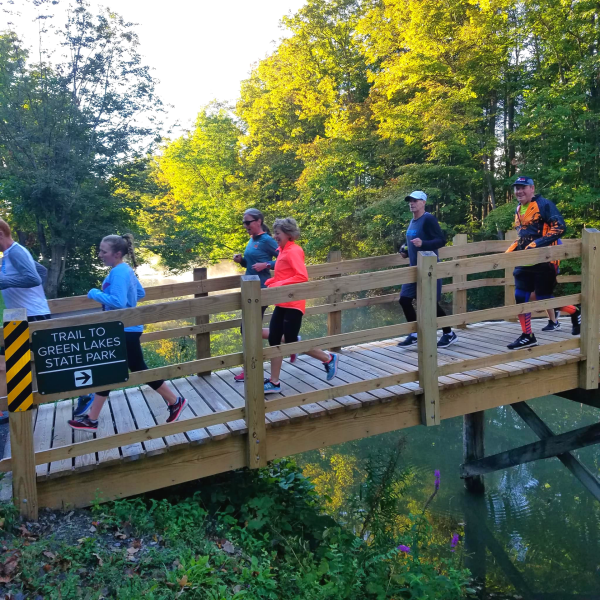 While what they accomplished may, in fact, seem super-human to those of us who were at home watching them on live streams, the process that they used to reach those finish lines and these goals was not super-human.  It was exactly the same process that we teach the athletes in our Fleet Feet Running Club training programs. Each person who decides to sign up for one of our training programs is seeking to break a barrier in their own lives.  Maybe they want to lose weight, spend more time outdoors, gain strength, or build their endurance. While these goals won't get recorded in record books like Mr. Kipchoge's, Mr. Frodeno's, and Ms. Kosgei's, they are no less important or significant.
What does it take to break a barrier? 

A team rallying around you and linking arms with you to support you en route to that barrier and your goal.  A mindset that is open to trying new things, departing one's comfort zone, and fine-tuning skills that you already have.  Investing in yourself in the form of good training, time for self-care, and quality equipment. Our training programs, our experienced coaches, and our wonderful community of people who love to help others can assist you with ALL of these aspects of goal setting help you en route to breaking through your own personal barriers!
What goals are you going to set for yourself?  What personal barrier are you going to seek to break through?  Yes, you CAN go further than you ever thought possible. Let us help you get there!
---
Laura Henry has been employed at Fleet Feet Syracuse since 2016 and has been an endurance sports coach for more than six years.  As the Head Coach of Fleet Feet X-Training Program (FFXT), she enjoys helping people build strength so they can reach whatever athletic goals they set for themselves.  Outside of work, Laura enjoys traveling, photography, reading, and cooking. She can be reached at lhenry@fleetfeetsyracuse.com.