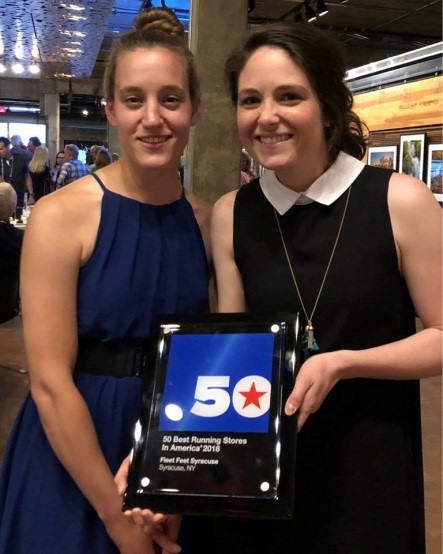 By Ed Griffin
Welcome to summer! Let's kick things off with a bang.
In Minneapolis last week, Fleet Feet Syracuse was named one of the Best 50 Running Stores in America for the 12th year in a row. Rachel Murphy and Laura Walker accepted the award for their 58 teammates, customers, volunteers and the community. Fleet Feet Syracuse has made this prestigious list every year in this competition of over 1,000 running stores across the country. We were named a Top 4 store in America in 2010 and Best Running Store in America in 2012.

For the third year in a row, Fleet Feet Syracuse will be awarding our Workplace FIT Grant to one lucky company here in Central New York. The Grant is sponsored by our friends at New Balance and includes:
Mobile Fit Clinic at business location
Lunch and Learn seminar for employees at the business location on a topic of their choice ranging from Nutrition, couch to 5K, Good Form Running, Staying active at a Sedentary Job or another topic chosen by the company
A 10 week 5K Coached Learn to Run program for 10 employees in our No Boundaries Training Program
If your company would like to apply, fill out a brief questionnaire about your business and employees including current health and wellness programs. 
Applications are due by July 31, 2018.
Finally, exciting news about our business, we are excited to announce that after 40 years our brand is undergoing a makeover. Changes will be wide and varied, all with the goal of inspiring and empowering our customers, staff members and the community to achieve their goals. We will have a ton of news in the upcoming months, but for now, take a look at our new brand identity: