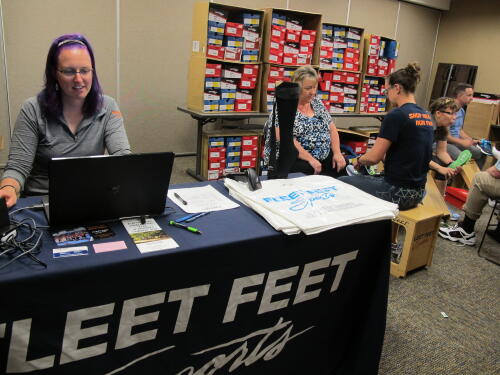 By Ed Griffin
We hope everyone survived last week's Corporate Challenge in Syracuse. This year the temperatures were good, there was no lightning or hurricane and everyone seemed to have a good time.
One thing we know, being healthy and fit is more than a once a year event. It is something that if practiced regularly, become habit. Companies, schools and universities in Central New York have realized for some time, the benefits of having happy, healthy and fit employees. Here are a few of the benefits:
Greater productivity
Reductions in work related ill-health and injuries
Lower workers compensation costs
A decrease in absenteeism and staff turnover
Improving employee relations
A healthier work environment
Enhancing your corporate image
Over the past two years, Fleet Feet Sports has been helping local companies and schools promote wellness by our Work Place Fit program. Essentially, we bring the same excellent experience from our DeWitt and Clay stores to your company. Both athletic and casual footwear, inserts, socks and other health related accessories are brought to your business. For best use of employee's time, we set up appointments in advance and we make the entire process painless.

We have visited East Syracuse Minoa Schools, National Grid, Auburn YMCA, O'Brien and Gere, Solvay Schools, SGS Gaulson and many other companies. This year alone we will conduct over 45 Work Place Fit visits.

You can read more about the program here or contact Work Place Fit Manager, Laura Henry.