By Coach Michele Maciejewski
The Mountain Goat Run has a presence in Syracuse. For some it's an exciting day to run hard and see your friends and for others it's a neighborhood block party with signs and drinks. But for some it's an unknown, an infamously tough race on an even tougher course with climb after steep climb. A pie in the sky goal, thought about but never truly fathomed.
That last sentiment is just crazy! The Mountain Goat presents some new challenges but with the right mindset, consistent preparation and a group of supportive people behind you, any runner of any ability can toe the starting line and cross the finish line. (P.S. if you run, then you're a runner.)
Here's a bit of background on why running hills is (good) for everyone. Running in and of itself is an excellent cardiovascular exercise that involves the legs, core and arms, but it's decently high impact and requires lots of recovery between bouts. Running hills is even better cardio, building heart and lung strength more quickly, while boosting leg, core and arm strength even quicker. And it's actually lower impact speed training in disguise. READ: Get faster with less pounding.
Yes, hills are still tough for even this coach who lives and runs in Marcellus (a valley surrounded by hills) and has been running hills for YEARS. But like anything, I started small with only a few hills and some walking and gradually ran longer and steeper hills over time.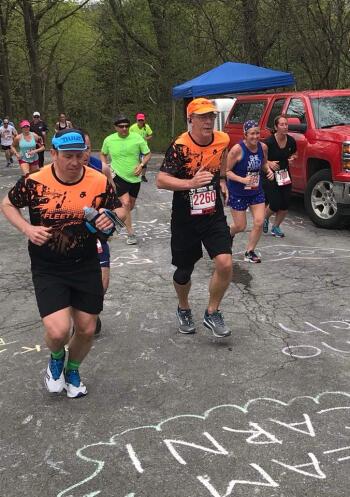 Which is exactly how Fleet Feet Running Club's Mountain Goat Training Program works. We will start with some beginner level speed/strength training and work into up AND downhill speedwork specifically tailored to the distance and terrain of the Mountain Goat course. On Wednesday nights we tackle the technical aspect of hill running and Sunday mornings work up to running double-digit long runs. Plus you'll receive a custom training calendar full of recovery runs, strength training and rest for the days in between.
Not ready for the full 10? You and a partner can come work on climbing hills while getting ready for the 5-miles-a-piece relay.
If you've ever wistfully discussed the Mountain Goat with a coworker or your parents as a race other people do but you'd never be strong/fast/prepared enough for, then check out FFRC's training. You'll find the motivation, guidance and positivity that may just push you to try.
I get asked often why I run or what I like most about racing. I think people expect answers like "I like to be fast" or "I like to win." But in reality, my answer is more that I like the feeling of climbing seemingly insurmountable hills and knowing that I am stronger than the fear and doubt that I left at the bottom.