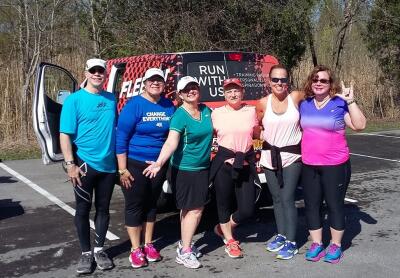 By Coach Mallory Mitchell
Is it springtime yet? If you're one of those people who embraces the winter weather: good for you; someone's gotta do it!  For everyone else, longing for the sunshine and temperatures that require fewer layers, we have to keep an eye out for signs that spring will eventually make its way back to us.  One sign I look for is the spring race calendar. Seeing Mountain Goat and Paige's Butterfly Run announce their upcoming races helps to get through some of these cold and snowy days. And sure, it's nice to dream about those warmer spring days, but they are still a ways away and we have to prepare for these challenges somehow. That's where Fleet Feet Running Club comes in!
Whether you've committed to a fitness program this winter or plan to start fresh in the spring, Fleet Feet has training options that will fit your needs and goals. Cross training, triathlon, running, and walking; Fleet Feet Running Club offers way more than just running programs! Take the upcoming No Boundaries 5K & 10K Programs, for example: while No Boundaries was designed as a begin-to-run training program, we have expanded to offer teams for kids, walkers, intermediate runners, and even a new 10K training for intermediate runners. NoBo is the perfect program for those entirely new to exercise, anyone who wants to get back into the swing of things after time off, especially for those coming back from injury, and the runner or walker who enjoys being part of a team.
No Boundaries 5K & 10K Training will start up early this spring, with Saturday morning sessions available at Green Lakes State Park or the Monday evening session at Onondaga Lake Park. For more information on No Boundaries, our Mountain Goat Program, and all other spring training options, go to www.fleetfeetsyracuse.com/training to learn more and register for your next challenge!