By Coach Laura Henry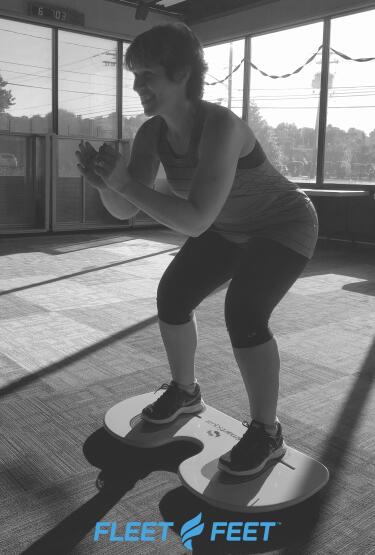 Winter is here; there isn't any doubt about it.  As the temperatures drop, road surfaces get treacherous, and snowy wind barrages us, it can be hard to find the motivation to get outside and get a workout in.  Some days, depending on the conditions, an outdoor workout just might not be possible.
As we close the book on 2018 and look forward to 2019, we know that you're seeking to reach some goals in the new year.  Why don't you consider resolving to get stronger? Our FFXT (Fleet Feet X-Training) program can help you gain that strength.  In doing so, you'll reduce your risk of injury, and feel better when you're going about all of your activities.
FFXT is a great addition and/or compliment to any athlete's training, no matter the sport that the athlete is training for.  For runners, cyclists, triathletes, and all endurance athletes alike, FFXT helps you improve your flexibility and learn to engage the correct muscle groups as you complete your workouts.  By teaching your body to work more efficiently via strength training, you learn to move faster without expending as much energy. Who doesn't want that?
FFXT is a group strength class, so you won't be going it alone.  It's a 10-week program that meets on Monday nights at our DeWitt location.  FFXT also includes homework workouts that you can choose to complete throughout the week to gain maximum benefit from the program.  Come and join us and see why so many people rave about this fun class!  New in 2019, we are offering an FFXT Annual Membership, which gives you access to all 40 classes of FFXT that will take place in 2019.
What are you waiting for?  Make 2019 your strongest year yet!