By Coach Michele Maciejewski
I would be remiss to say that a person can wake up one day and just be a long distance runner. The magic is that, though it takes work every day over the course of many weeks, it really is just one thought or one decision that can spark the movement. Make today the day when you allow that idea to ignite your journey there.
Over the course of this past weekend, I had the incredible opportunity to help a friend and member of Fleet Feet Running Club (FFRC) finish a 100-mile race. We're not asking anyone to train for something that momentous, and quite frankly, insanely difficult.
But the same idea that got him across the finish line after more than 32 hours of running is the one that will get you through training. One idea can carry you through many weeks of building strength in the winter so you're ready to train for the Mountain Goat, Boilermaker and a half or full marathon before 2019 is over.
The idea is that you can decide to achieve something seemingly impossible if only you take it one day at a time. That's where a running group can help.
The Fleet Feet Running Club Distance is a group of people of all ages, abilities, backgrounds and desires that meets twice weekly (officially) and sometimes daily (unofficially) to train through the entire year.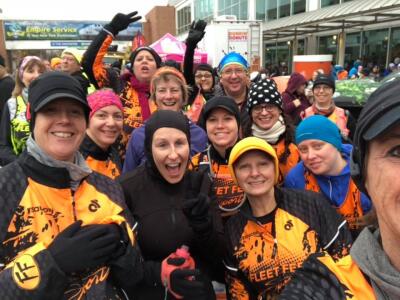 FFRC offers all runners a calendar year of daily training, starting with a base building plan in the winter and culminating with a half or full marathon in the fall (plus a new holiday streak challenge to top it off). In between, we offer clinics and helpful information sessions on recovery, nutrition and racing strategies to round out successful training. We even offer fun social events to motivate and reward everyone for their hard work.
But most importantly, FFRC offers the camaraderie that organically builds as runners like you sign up, join in and encourage each other on a daily basis. It's the everyday little notes, picture posts and even coaches' emails that get us through each day of work and builds into future race day success.
It takes many weeks to build a distance runner but the work is done one day at a time. Like our 100-miler friend has found, the work is made easier and better with the company of other people. FFRC has your people, if only you take that one day now to set the journey in motion.
Learn more and sign up on our website. If you're keen to see it in action, join us for FREE Sunday long runs at Cold Feet in December to get a sample of what it's all about.