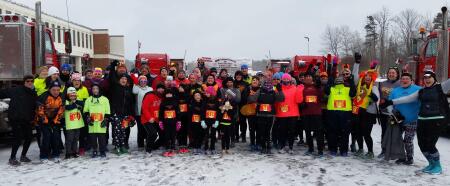 By Coach Mallory Mitchell
The holidays are here again, and with them another dramatic change of the seasons. While Syracuse weather is anything but consistent, the same cannot be said for the Fleet Feet Running Club athletes who come out and show up even in record-breaking conditions. Thanksgiving Day, for example, was the coldest any of us have seen on the holiday, but the Fleet Feet Syracuse Racing Team as well as our No Boundaries 5K and first-ever 10K athletes brought their energy, excitement, and of course, some nerves to the frigid starting line in Baldwinsville. Despite the conditions, several of our athletes took home personal best times, even on a hilly course!
I can tell you nearly everyone on the Fleet Feet Syracuse team thought about staying in bed Thanksgiving morning, even if it was just for a moment. But what got these folks to come out and break records on such a chilly morning? Dedication and commitment to their team, but also to themselves. The buddy system is a valuable tool in maintaining fitness goals because we are far more likely to show up for a friend or teammate than going it alone. This winter season, I'd like to challenge you to make a commitment to your health and encourage someone to be your partner in crime.
Fleet Feet Syracuse offers a great variety of training options throughout the winter to aid in your fitness goals. The No Boundaries 5K Training Program is the perfect team for anyone getting back into running and even those who want to maintain and work on staying consistent throughout the winter. We start our holiday challenge this Saturday, December 1st at 8:30 a.m. and continue through early February with the goal of completing the Cupid's Chase 5K. Join the challenge and commit yourself to health this holiday season!
To learn more about No Boundaries or any of our upcoming training programs, visit www.fleetfeetsyracuse.com/training.