By Coach Laura Henry
Winter isn't just coming anymore….it came!  With 12+ inches of snow and temperatures below freezing, the winter season swept into Central New York last week and it does look like it's here to stay.
Between the weather and decreased amount of daylight hours, it can be extremely hard to stay motivated to keep up a fitness routine, especially if your regular routine consists of only running or only cycling.  While it's very possible to dress for the weather and get outside, wouldn't it be nice to get in a workout without five pounds of clothing on?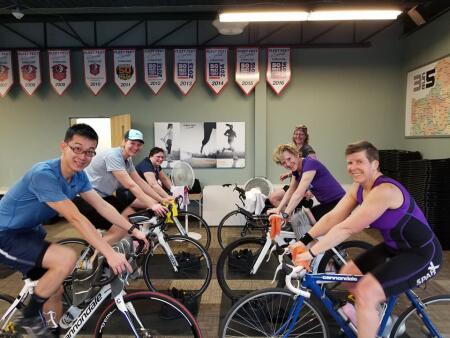 Enter Fleet Feet Syracuse's Triathlon Program.  And while we do call it our "Triathlon Program," the truth of the matter is that it is actually a multisport program.  We work on developing skills and fitness in swimming, biking, and running.  Some folks do put all of these pieces together and train specifically to complete triathlons, but others use these disciplines to cross-train and mix up their training.
On a cold winter's day, a warm pool is certainly very inviting.  And you'd be amazed at how much body heat you can produce during a workout on an indoor bike trainer while the snow falls outside.  And on those days when the roads are clear and the sun decides to come out, getting out for a run and some fresh air feels like the most liberating thing in the world.
Cross training not only keeps you mentally engaged in your fitness activities (it's hard to get bored when you are constantly switching disciplines), but it also helps athletes get stronger and reduce their injury risk in their main sport.  If you are a runner who only runs, you are putting a lot of repetitive force on the same muscles in the same way all the time. If you switch out some of those running workouts for swimming and biking workouts during the winter season, you'll be engaging the muscles in your body in a different way than normal.  This will help strengthen up muscles that you don't normally use, which in turn, helps to make you a stronger runner since you are increasing overall strength, not just focusing on a limited number of muscles by only doing the same activity over and over. In multisport, you exercise some muscles when you swim, others when you bike, and then others when you run.  Essentially, some muscles are always being worked, but then they are being allowed to rest when you engage in another discipline. This significantly reduces injury risk.
Swimming, biking, and running are all aerobic activities, which means that they all have a similar effect on the heart and lungs.  Your body doesn't know what activity is training it; it just knows that your heart, lungs, and other muscles are growing stronger because of it.  Contrary to what many athletes think, you can actually enhance your running by doing other activities that help keep your cardiovascular system strong.
This year's Winter Triathlon Program has a really diversified group of athletes already signed up.  Some of them haven't ever done a triathlon before, and want to learn more about the sport and train to cross their first triathlon finish line in 2019.  Some are training for the Seneca 7 as a bike relay and want to learn some biking skills. And yet still others are runners looking to add some variety into their routines.  WInter Triathlon is a base-building and skills-focused program, so there really is something for anyone who decides to sign up.
Our Half-Iron Triathlon Training Program is a great option for athletes who want to add in longer durations of cross-training or who want to take on the challenge of a 70.3-distance triathlon.  Goal races for 2019 include Tupper Lake Tinman and the Musselman Triathlon. This program starts with and runs concurrently with our Winter Triathlon Program, but then progresses to include longer durations as the program goes on.
If you are seeking 365 days of cross-training and multisport, look no further than our Annual Triathlon Membership.  Available only for a limited time (until December 15, 2018), this option gives you access to four offerings that provide 365 days of workouts: Winter Triathlon, Spring Triathlon Transition Training Plan, Spring Triathlon, and Fall Triathlon Transition Training Plan.
This winter, consider adding some variety into your routine and give our multisport offerings a try!!  Our experienced team of coaches and supportive and encouraging athletes are sure to brighten even the gloomiest of Central New York's winter days.