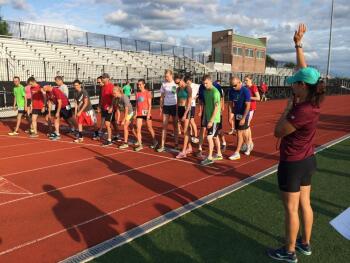 Search for the keyword #tracktuesday. I guarantee you will see heaps of photos and videos of people out there on their local tracks. Sometimes that means just running easy and sometimes that means doing lots of short sprints or a combination of distances and speeds. Bottom line is the runners may look fierce, but odds are they're everyday people getting out there. And they may even be having fun.
Somehow, running got a bad rap. We often hear that people only run because they have to for their sport, their job, or their hobby. And just as often people deny their runners because they think being a runner only means you're serious and fast. That's simply untrue. If you run, you're a runner. Period.
Ever hear of the word "fartlek?" It's Swedish for "speed play." That's exactly what we want to bring to the local running community every Tuesday morning: Play on the track.
But honestly running can be for everyone and it can be fun. When you break up your running workout into a warm-up, intervals or brief segments of faster running alternating with bouts of slower running or rest and a cool-down, then all of a sudden you've run miles and miles. And you didn't even have a chance to think about how much you hate it because it wasn't monotonous. And shhh, it may even have been a little fun!
Speed work on a track is great for so many people and so many reasons. Repeats of high intensity running can help you run faster. Great news for you racers looking to PR. But what if you want to achieve a faster time for your military PT or karate belt test? Yep, works for that too. Faster running also compliments training for weight lifting, conditions us for hiking or crew or swimming or lacrosse or… well I think you get the picture.
Bottom line is that if you truly dread running because it's boring or hard or honestly feels like a punishment, then perhaps you should try going about it a different way.
Track Tuesday begins tomorrow morning, May 14th at 6am at Westhill High School Track. This first session is free and open to anyone. Saucony will be on hand to offer you a test run in their new Ride ISO 2 and several other shoes. Email michelem@fleetfeetsyracuse.com to let us know you're coming!
We meet every week. Same time, same place. Drop in once in a while or get a multi-class pass and work towards your goals when your schedule allows! Visit our website to read more!