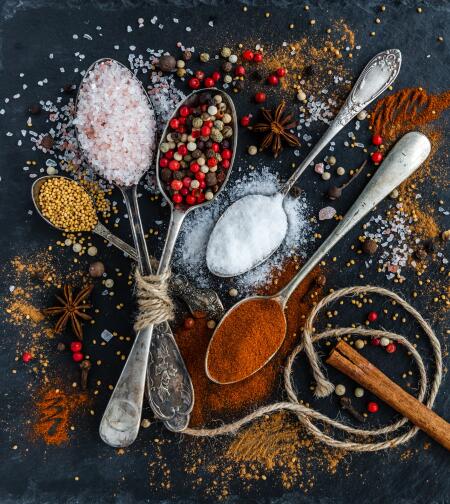 The Flavor of Fall: Pumpkin Spice
It's the time of year when it's easy to find pumpkin-flavored, limited-editions of your favorite products sneaking onto the shelves. Here's a compiled list of products that you are bound to find this fall at your favorite store and coffee shop.
** Note: Read the labels and monitor sugar content. Most of these limited-edition products have a higher sugar content than their original version to off-set the bitterness that typically comes with pumpkin spices. The American Heart Association (AHA) recommends < 35 of sugar per day for women and < 40 g of sugar per day for men. For the athletes I work with, I am comfortable with keeping sugars between 40-50 g. Keep track of your sugar content and enjoy the fall flavors!
Siggi's Pumpkin & Spice Yogurt
Noosa Pumpkin Spice Yogurt
Chobani Flip in Pumpkin Harvest Crisp
RX Bars in Pumpkin Spice
Muuna Pumpkin Spice Cottage Cheese
Life Cereal in Pumpkin Spice
Frosted Flakes in Pumpkin Spice
Special K Pumpkin Spice Crunch Cereal
Cheerios Pumpkin Spice Cereal
Nestle Coffee Mate in Pumpkin Spice
Silk Creamer in Pumpkin Spice
Halo Top in Pumpkin Pie
Talenti Carmel Apple Pie Gelato
Thomas' Pumpkin Spice English Muffins & Bagels
Pepperidge Farms Milano Cookie in Pumpkin Spice
Snyder's of Hanover Pretzel Pieces in Pumpkin Spice
Archer Farms (Target product): Pumpkin Pie Snack Bites, Pumpkin Pie Caramel Corn with Sunflower Seeds, Pumpkin Spice Trail Mix
Starbucks Pumpkin Spice Latte
DD's Pumpkin Spice Coffee
Trader Joe's Products (find them at the store located on Erie Blvd, Dewitt)
Pumpkin O's (GF)
Pecan Pumpkin Oatmeal
Pumpkin Pancake Mix (GF)
Pumpkin Cranberry Crisps
Pumpkin Spice Granola Bark (GF)
Harvest Spice Trail Mix
Pumpkin spice Coffee
Sweet Potato Pizza Crust (GF)
Recipe: Overnight Pumpkin Oatmeal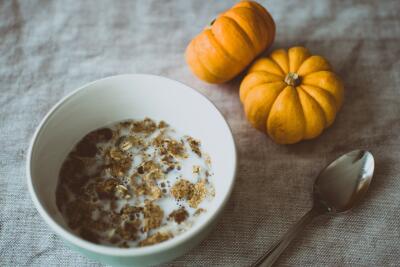 Source: The Plant-Powered Dietitian
Ingredients:
½ C old-fashioned oats  (regular or GF)
¾ C plain plant-based milk
½-1 Tbsp pure maple syrup or honey (depending upon your preference, may omit)
1 tsp pumpkin pie spice
¼ C canned pumpkin
2 Tbsp. pumpkin seeds
2 Tbsp. ground flax seeds
Instructions:
Place oats in a mason jar or 2-cup container. 
Add plant-based milk, maple syrup or honey, pumpkin pie spice, pumpkin, pumpkin seeds, and ground flax seed. Cover with a lid and shake really well (or stir with a spoon). Refrigerate overnight.
The next morning, enjoy warm or cold. Add additional plant-based milk to achieve desired consistency.
Katina's recommendation: Add 1 scoop of your favorite plant-based protein powder. Add additional plant-based milk to achieve desired consistency.