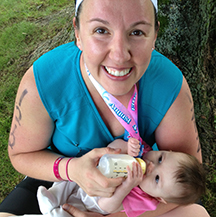 By Emily Kulkus
I signed up for the 2013 Iron Girl Triathlon when I was about 38 weeks pregnant with my first child. Looking back it was kind of a crazy thing to do, considering how much unknown territory I was wading into. But I was due in January and the race was in August so I figured I had plenty of time to train. The last few months of that pregnancy were difficult. My baby girl was "sunny side up," which meant her spine was resting directly on mine for the third trimester. Walking or standing for any length of time was painful and I longed for the days of going out for a jog. That's why the triathlon – and the training that would have to go with it – looked so appealing. Signing up for that race made me look forward to moving again.
Fast forward a few months and I had a healthy baby girl, a body on the mend after an uneventful C-section and I was eyeing my running shoes. I knew it was going to be a long road back to where I'd felt the year before but I was ready to start small. 
I got dressed as usual and hopped on the treadmill. I took a few strides and burst into tears. I had not even considered how breastfeeding would factor into my run. My sports bra wasn't cutting it anymore. What had worked the year before was no longer supportive in any way. My body was significantly different since having a baby and was still changing as I was several months into breastfeeding my daughter. As I stood crying on my treadmill, two thoughts went through my head: I would never run again and there was no way I could complete Iron Girl.
After a few minutes I calmed down and regrouped. When I first took up running I went to Fleet Feet Sports and invested in some great shoes, which made a world of difference. (Please note this is years before I started working here.) It dawned on me that if they'd helped me that much with shoes, they could do the same with a sports bra. I went to the store and explained my situation. The fitter I worked with was a great listener. She measured me for a proper fit and gave me some options. I walked out with my first Brooks Juno bra and never looked back. I could run again! The bra was comfortable and gave me the support I needed. It was like finding a new pair of legs.
I share this story because babies change everything: your life, your heart and most definitely, your body. To be honest, I was nervous about going to Fleet Feet Sports to find a new sports bra. Not everyone is comfortable talking about breastfeeding and I wasn't sure they would have an option for me. My experience not only put me at ease but it gave me a new shot at running, and at my triathlon, which I happily finished that August. Seeing it from the other side now, I encourage you to come in and get fit by one of our fit experts for a properly fitting sports bra. (Only our female fitters do sports bra fits!) We'll measure you, listen to your needs and give you several to try on. Because just like having a baby, finding the right sports bra changes everything.