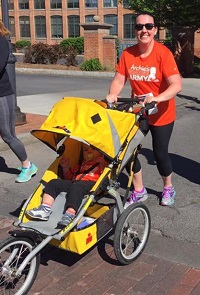 By Emily Kulkus
I didn't know my grandfather all that well but I was lucky enough to garner a piece of advice from him that I've used many, many times throughout my life.
"Act like you belong until someone tells you otherwise."
That saying has zipped through my head in countless situations, both personal and professional, and it has helped me gain access to people, places and experiences that I wouldn't have been able to meet, see or accomplish otherwise. Now, this is not a free pass to be pushy. It's a reminder that sometimes we all need a little nudge to step beyond our comfort zone – and if someone pushes back, that's when you decide your next move. (My advice to you is be confident, not pushy.)
On Saturday morning I gave myself a little nudge and stepped beyond my comfort zone. I've run more 5Ks than I can count. And I've taken my kids on runs with me in the jogging stroller more times than I can count. But I've never run a full 5K with the jogging stroller – enter giant ball of nerves and a stomach full of butterflies. All those old feelings of athletic anxiety came rushing back: What if I can't do it? What if I can't finish? What if I bump into someone? What if the baby gets upset halfway? What if, what if, what if?
What I should have been asking was: What if it's a totally awesome experience for both of us and it's a new way to complete a 5K? And if this was Jeopardy, that would have been the correct question.
Archie and I completed Paige's Butterfly Run on Saturday morning and had blast. The weather was perfect, the crowd was enthusiastic and I think it's fair to say that we both felt great. Any time I checked on my tiny passenger, his hair was blowing in the wind and he was clapping and smiling.
Pushing an extra 30+ pounds for the run definitely made it more challenging and I was slower than my usual pace but it didn't matter – I had a brand-new bonding experience with my little guy. I ran my first 5K in my late 20s and my son completed one at 16 months!
So here I am 10 years into running and I'm still checking new things off my list – and not without a little nudge pushing me in the right direction. It wasn't until the finish line that my nerves fully calmed, but once that happened they were replaced by excitement and confidence that I could run a 5K with my son in the stroller. And no one told me otherwise. Not even me.
Have a question or feedback for the 5K Mom? Email me at ekulkus@fleetfeetsyracuse.com.