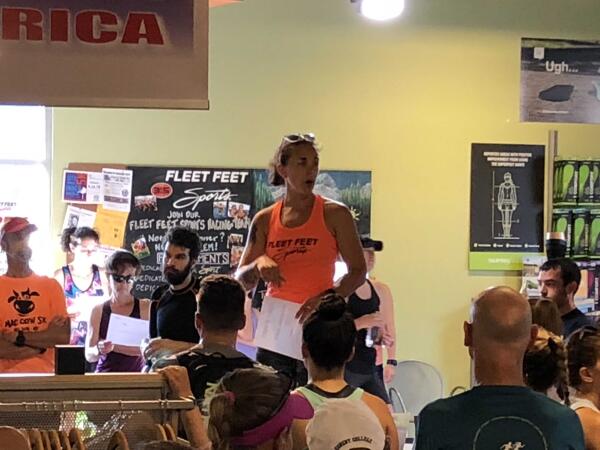 By Ed Griffin
A lot of changes are happening here at Fleet Feet as we move deep into summer. This past weekend, the Fleet Feet Running Club gathered for a warm but successful start to Sunday Funday from our DeWitt location.
The Fleet Feet Running Club is the continuation of our re-branding program here at Fleet Feet. For years, we have had many different Fleet Feet running programs including training programs for all levels of running and distance, a legendary triathlon program, cross training program, community based running opportunities and a social race team. Now all are under the umbrella of the Fleet Feet Running Club.
This Sunday was a great example of the confluence of all of our programs. Over 150 people from our distance training, triathlon training and social race team, joined those from the community on a 6-12 mile run through DeWitt and the Erie Canal Towpath.
We believe that "Running Changes Everything" and I heard countless stories on Sunday to back up our belief. One person told me how they turned to running after the death of their father. Another told me that somehow they had made it into the NYC Marathon lottery two years in a row. One participant, who I have known for a while, works as the Executive Assistant to someone I used to work with. Who knew? If you come out and open yourself to others, not only do you meet cool people with great stories but also the time goes flying by.  Before you know it, you have run eight miles.
Our coaches are amazing. A participant told me that just when she is having a rough patch on a warm day, her pace group coach is there to tell her funny stories and get her mind off of "the hard" and to focus on "the fun".
If you have ever wondered if you could run a half marathon, then you should join our 12-week half-marathon training program, which prepares you for the Syracuse Half Marathon in November.  The Syracuse Half is the largest road race in the city and offers a tremendous participant experience. Training for this program starts on August 22nd.
Come join the Fleet Feet Running Club any Sunday. The first Sunday of each month is at our DeWitt store location and then every other Sunday is at Green Lakes State Park at 7:30 AM.