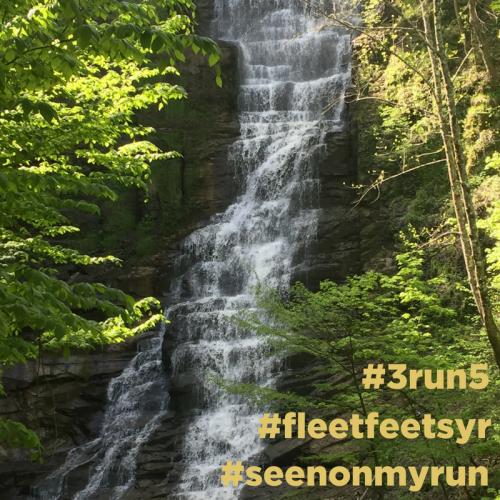 By Ed Griffin
Nature is full of wonder and the colors of spring are exploding all over Central New York. Trees in blossom, flowers in bloom, blue skies and the sounds of kids playing outside can be experienced each time that you run or walk outside.
The other day, on a sunny morning, I ran by one of the most beautiful waterfalls in the area. Spring rain provided the perfect water flow for a spectacular photo, which you can see above. This photo will help remind me for years about what I experienced that day.
Our own Mandy Howard, a really good photographer, had a series of art pieces called "Seen on My Run" that she produced several years ago. Mandy would take photographs while out on her various running excursions and captured many unique and familiar photos.
At Fleet Feet Sports, we know that many of you are seeing great things out there and want to see, what you are seeing. It could be a nature scene, a regional landmark or just about anything else of interest, we want to see it and share with the whole world.
Here is what you do:
Take a cool picture
Post it on Instagram or Facebook
Tag us at #fleetfeetsyr and #3run5
Share with the world!
Not only will these photos show up on our Instagram and Facebook pages, they will also appear on our in house monitors on the showroom floors in our DeWitt and Clay stores.
So, show us what you got and have a great spring.