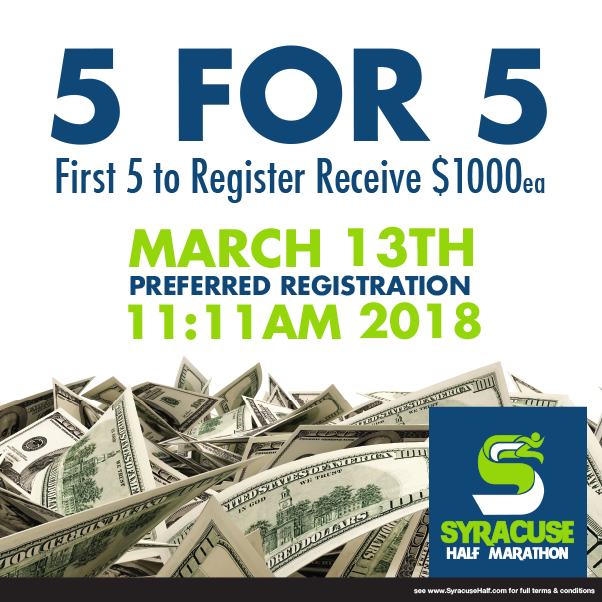 By Ed Griffin
From the beginning, the Syracuse Half Marathon has brought a lot of fun to the local running scene. As registration is about to open for the 2018 race, organizers have created a unique contest and you should be paying attention, because they are giving away money.
"As an innovator in the road racing industry, the Syracuse Half Marathon is excited to announce something that (to our knowledge) has never been done before", said Race Director Rick Streeter. "We have created a contest called '5 for 5' and will be offering $1,000 to each of the first five preferred entrants on Tuesday, March 13 at 11:11 a.m. EST." A preferred entrant is classified as anyone who participated in the Syracuse Half Marathon in the past four years. Preferred entrants will receive an email prior to March 13 with instructions to register.
Syracuse Half registration information and details of the "5 for 5" promotion is located at www.syracusehalf.com. The race will be held on Sunday, Nov. 11, 2018 and features a great new jacket for all participants, a fun post-race party and hot food spread. This may be the best deal in town, so be sure to register Tuesday!