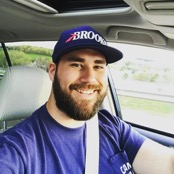 By Ed Griffin
Brennan Schwab's last day at Fleet Feet Sports, Syracuse was in late April. The morning after his last shift, Brennan (above) flew to Seattle to start his new job with Brooks Sports. He joins a long list of former key staffers whose careers we have helped advance. Here are some former Fleet Feet Sports Syracuse folks and what they're doing now:
Tom Taylor: Manager Marketing Specialty Running for New Balance, Boston
Katie Nielsen: Manager Gazelle Program, Adidas, Boston
Fred and Shelby Joslyn: Owners of Fleet Feet Sports, Mechanicsburg, Pennsylvania
Greg Szklany: Shadow Rep, Saucony, Syracuse
Matt Werder: Senior Manager Retail Operations, Fleet Feet Inc., Carrboro, North Carolina
Brennan Schwab: Guru Rep, Brooks Sports, Washington, D.C.
Several of our team members have used their experience working at Fleet Feet Sports to become physical therapists, massage therapists, podiatrists and one person earned a doctorate degree in biomechanics.
We are also very proud of the folks who have built Fleet Feet Sports over a long period of time. We have five people who have been with us more than 10 years and six people for more than five years. Many of our current or past employees started in part-time positions and later landed full time opportunities, including managing various parts of our business.
One thing we did not mention is how much fun we have at Fleet Feet Sports, after all we are in the running business. Our staff takes it to a new level with parties for almost any occasion, tutus on the sales floor, running during breaks, trivia nights and by supporting numerous community events and organizations.
With Brennan's departure and our current growth, we have several openings on our staff and we would love to have you check us out. Part-time opportunities require a minimum of 10 hours per week and weekends are our busiest times. If you like working with people, have a desire to have an impact on the lives of people and are interested in learning about a career in the running industry, we would love to talk to you. We offer competitive wages, with opportunities for regular increases, great benefits and we will help you with your career.