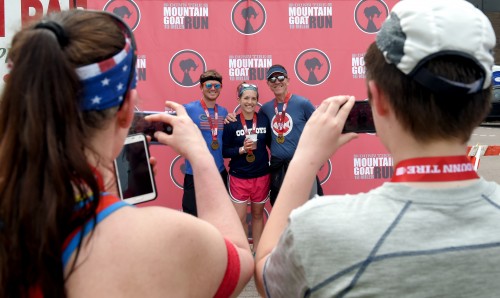 By Ed Griffin
The Dunn Tire Mountain Goat has come and went and what a great weekend it was. Not much better than being at a post-race party with music and friends and celebrating running an iconic 10-mile race.
This is my first year of not being President of the Mountain Goat Run Foundation since 2004 and it allowed me to see the race with brand new perspective. So some random thoughts:
The Mountain Goat has now turned into an entire weekend, mostly in part to the packet pick up and Hall of Fame Ceremony starting on Friday. The future for additional Mountain Goat components to the weekend is bright.
New President Rosemarie Nelson and Race Director Tim Walczyk did a fabulous job and brought great energy to this year's race. Congratulations to all volunteers who make everything work.
Is the Dizzy Pig really running for President? Glazed and Confused Donuts on Clinton Street had a steady line of post-race customers and a super great addition to the race.
Primetime gave a steady back beat of music to the Post-Race Party and had a killer set.
Antonio Palmer, aka; Coach Tone from Orange Theory Fitness, put in the surprise performance of the day with an 11th place overall finish in just a few ticks over an hour.
The members of the Fleet Feet Sports Syracuse Race Team were helping and cheering everywhere. Congrats to all of the coaches and team members who would run participants to the top of Colvin and Thornden, run back down and start all over again.
The 2018 Hall of Fame Ceremony was another moving and important tribute to the Mountain Goat and the entire community. Rob Clark, Scott Beach and Jerry Smith all gave important acceptance speeches that shared the theme of community engagement and giving back. Jerry Smith urged that a community cross country course would be a huge benefit for schools, colleges and all runners.
What a nice prize package the Goat came up with this year. Reusable shopping bag, lawn blanket, and pint glass -, all in red and black!
It was great seeing the Mayor of Syracuse Ben Walsh at three different Mountain Goat Events this week. Thanks to the Syracuse Department of Parks and Recreation, Syracuse Police Department, Syracuse Fire Department and all that made the day go smoothly.
Neighborhood support was awesome during the race, Goat Fest in Strathmore, the live bands including Letezia and the endless line of drummers on Colvin, Sour Citrus Society and more rocked.
Happy 40th Anniversary Dunn Tire Mountain Goat Run!  See you next year.