No Boundaries Virtual 5K Training
6/8/2020
By Coach Mallory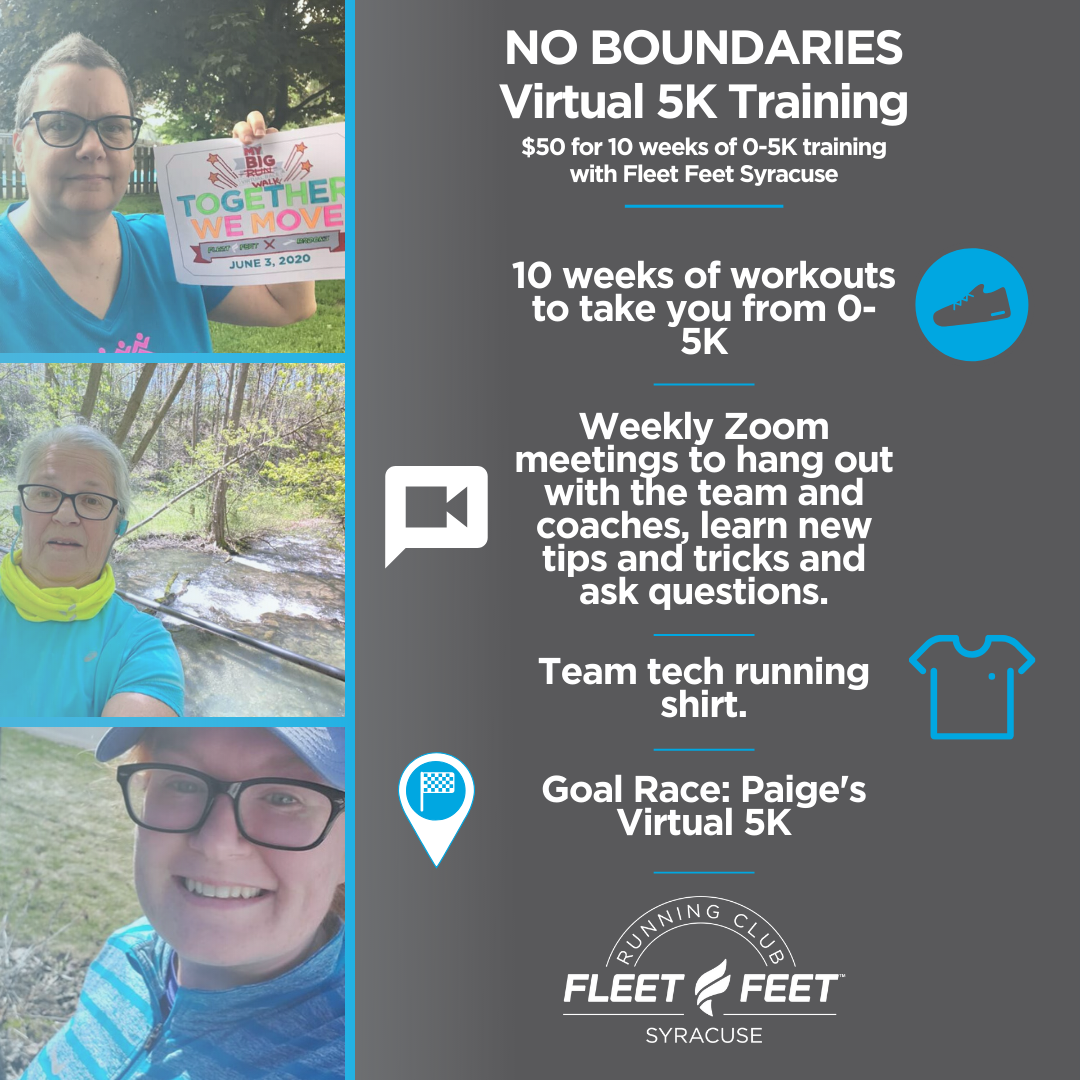 You, like many of us, have been taking the steps to be smart with your health and the health of those around you, but staying motivated to move can still be a daily challenge. While we slowly adapt to our new normal, let us and other local runners and walkers help you over that motivational hurdle during our No Boundaries Virtual 5K Training Program.
Listen, I know being physically out there with a team is the preference for many of us, but we could all use some accountability and support to get started… or keep going.
Donna, a long-time member of the Fleet Feet No Boundaries Walking Team, thrives on the camaraderie shared between her teammates and coaches at the usual weekly team workouts. And when a 4-week virtual program was offered last month, she felt that same camaraderie during the weekly zoom call "meet-ups." They kept her engaged to get out for her homework runs with the added bonus of seeing friendly faces each week. Donna even brought us along (virtually) on her homework walk one week!
Moving to a virtual training format during this time means that you can still get the same great benefits of Fleet Feet Syracuse's No Boundaries 5K training at half the price! Ten weeks of personalized workouts whether you're running, walking or just starting out, access to experienced coaches, a team tech tee, and a goal race to train for and finish together. All for only $50.
This summer's virtual No Boundaries training is also ideal for teammates and friends who have moved away, but still want to touch base and run with the Fleet Feet Syracuse team! The goal race, Paige's Butterfly Run, is a virtual event, so anyone near or far can take part in this summer training!
And if your kids (ages 8-12) are itching for social interaction with someone OUTSIDE the house? There is a group for them, too! The registration form is still the same, but the kids team will meet virtually at 5:00 p.m. on Tuesdays, while the adult team will meet at 6:00 p.m.
I hope to see you there!
Coach Mallory