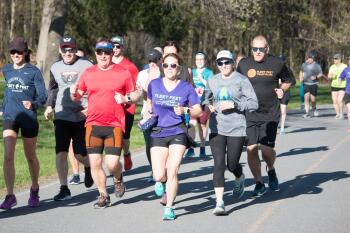 Last weekend, something incredible happened: We had really nice weather for a race. All kidding aside, close to 200 of our Fleet Feet Running Club (FFRC) and Racing Team members took on the Mountain Goat Relay or full 10-mile race. And everyone completed it with a strong finish and, most importantly, a strong attitude and sense of confidence.
How do I know that? I met most runners just past the halfway point on the hill going up Colvin Street. To be fair, no one looked like their run was easy. The common look was of determination, sense of readiness and poise for the fight to make it all the way up the long, gradual climb to Manley Field House and then onto Thornden Park.
It was tough, but these runners were tougher because of the ten weeks of hill, speed and long run work they'd put into it.
This week, we're rolling right into training for the Boilermaker 15k in Utica, NY. If you haven't run in or heard of the iconic race, check out their website. Surprisingly, there are still bibs available but the fun 9-ish-mile race plus after-party always sells out eventually.
And with FFRC's Wednesday evening speedwork and Sunday morning long runs, we'll make sure you toe the starting line with the strength and confidence you need.
Prep for the Boilermaker is similar to that for Mountain Goat, but with a little less emphasis on hills and more on hydration and heat-acclimatization. Yes, the heat and humidity is something you can prepare and train for!
FFRC training programs not only provide the right running calendar for races but also help you figure out how to dress, eat and drink for a race, prevent injury and most importantly build your mental toughness to tackle anything you want.
Check out the Fleet Feet Running Club's Training website for information on the Boilermaker Training Program (first long run is THIS SUNDAY) and also Track Tuesdays which can help runners and non-runners alike gain fitness and speed through track-based work.