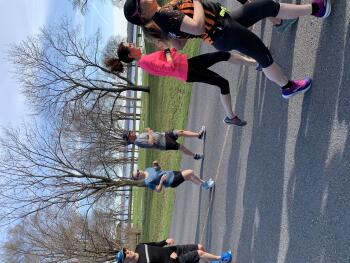 Are you panicking because you signed up for the Boilermaker and now you've no idea how to train? Or have FOMO (fear of missing out) because all your friends signed up and you don't know if you can run 9.3 miles in July?
There is still time to register for The Boilermaker, one of the most iconic and fun races in Central New York. Once you do, Fleet Feet Running Club (FFRC) has Onondaga County's premier training program to get you really ready to do your best.
FFRC's Boilermaker Training starts Wednesday, May 8th and runs 10 weeks through July 7th. On Wednesday evenings, we host speedwork sessions to fine tune your racing skills and improve power, speed and strength. Sunday mornings are the long run, an essential tool for gradually building endurance and mental toughness.
In addition to group training, you'll receive a custom training plan via an online platform called Final Surge that outlines each week's runs, cross-training and rest days. Because racing isn't just about running, we'll also give you tips on training, injury prevention, racing tactics, nutrition/hydration and more via social media, workout clinics and informal chats with one of several small group coaches.
Running well happens when you put in a consistent effort to be your best. That doesn't mean having perfect runs every time, but it does mean trying as hard as you can to run long, to be fast, or to put in the time to strength train, stretch or foam roll for recovery. And yes, that last bit is as (or more) important as the running itself.
We'll get you there one step, one mile and one day at a time. When you have a big group like FFRC, with amazingly knowledgeable, dedicated and fun coaches to inspire and support you, it's impossible to skip a day, to doubt yourself, to fall off the wagon. You can get to that finish line or push for a PR and we'd love to help.