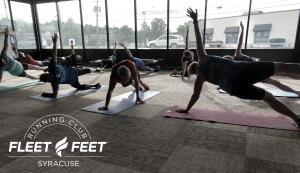 This past spring, I was talking to a long-time participant of Fleet Feet Running Club training programs.  He mentioned that he was going to stop taking Fleet Feet X-Training (otherwise known as FFXT), as he didn't have time for it in his training schedule.  I mentioned that what he really didn't have time for was an injury, and I expressed concern that he would end up injured if he didn't do an adequate amount of strength and flexibility work to compliment his other training.
A few weeks ago, this athlete reached out to me to let me know that he has been battling injury all season, and that he feels that it is because he neglected to include strength training in his training this year.  I was very sad to hear that he has sustained some injuries, but I found his experience insightful.
While this athlete had seen the benefits of strength work in his training in the past, he struggled to include it on his own.  His experience is not unique; each week, I talk to dozens of athletes and customers who come into Fleet Feet Syracuse who say that they are more motivated when they are held accountable by a group program.
Here is where FFXT enters in.  FFXT is a group strength training class that runs for ten weeks and is a fun way to hold yourself accountable when it comes to strength training.
This class uses mostly bodyweight movements to give a good workout that is as functional as it is purposeful.  What does this mean? It means that the class gets our bodies moving in ways that support our activities of daily living while also working on strengthening common areas of instability or weakness to help prevent injury and make the body stronger overall.  It is a great way to enhance the training you are doing for other activities, or it can be a great stand-alone fitness activity.
FFXT is for EVERYONE.  So whether you've never exercised a day in your life, are a seasoned athlete, are returning from an injury, or just want to add something extra to your routine, the movements in this class can be scaled to your ability level.
In addition to the weekly class, "homework" workouts are delivered each week via Final Surge, an online training platform that is easily accessed via an app on your mobile device or via a web browser.  These are optional workouts that you can do on your own at home that will help reinforce the strengthening, flexibility, warm-up, and cool-down skills learned in class and can take your strength training to the next level.
FFXT takes place on Monday evenings are our DeWitt location, and our next session begins on Monday, September 9.  Come join us! You deserve to be the strongest version of you!
Laura Henry has been employed at Fleet Feet Syracuse since 2016 and has been an endurance sports coach for more than six years.  As the Head Coach of Fleet Feet X-Training Program (FFXT), she enjoys helping people build strength so they can reach whatever athletic goals they set for themselves.  Outside of work, Laura enjoys traveling, photography, reading, and cooking. She can be reached at lhenry@fleetfeetsyracuse.com.