Level Up With Trekking Poles
By Tom Rivett
Monday morning, Fleet Feet Syracuse Trail Running Coach Trae and I set off on a pre-sunrise hike/run at Labrador Hollow. 
It was cold, dark, and the snow on the trail was packed and icy. Our 5-6 mile trek cut across the face of a hill followed by a steep, 1,000 ft climb.
It was the first time using trekking poles for both of us and oh man… It will not be the last. 
Here are three reasons why I will now be keeping some trekking poles in the trunk of my car at all times: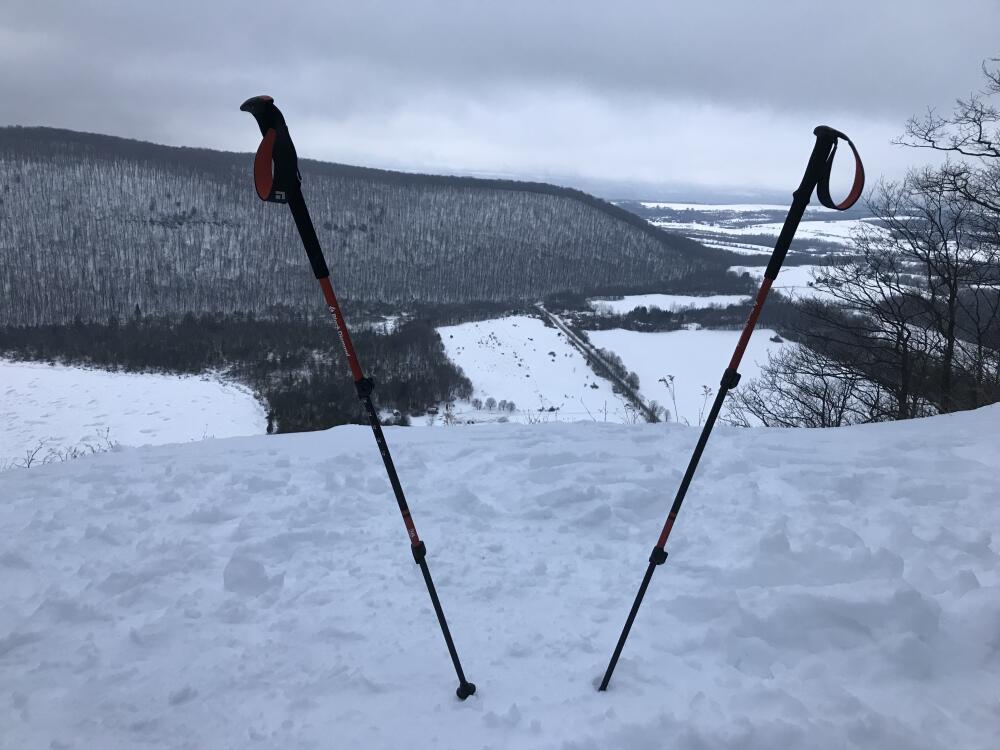 Help on Ascents & Descents
Trekking poles keep your arms and legs driving upward to help propel you up steep elevation grades and terrain. 
During descents, the poles help slow you down and brake reducing stress on your quads allowing and overall smoother ride downhill. 
Stability and Balance
The additional contact points trekking poles give you can help you traverse slippery or wet surfaces or keep your balance on uneven terrain.
Reduced stress on the legs
Because trekking poles help bear the load that would normally be left up to your legs, they can help reduce fatigue, conserve energy, and reduce stress incurred on your legs and joints. 
Bonus points: Access and Enjoyment
Trekking poles can give you access to trails that would otherwise be difficult to run or hike on. Especially during the winter. When the snow and packed trails freeze over or become uneven, a pair of poles help you find your footing and carry some of the extra load. Plus, our trekking poles from Black Diamond (pictured below) have interchangeable tips and baskets for deep snow (sold separately), adjustable lengths, and can telescope down to fit in your backpack. 
Who Should Use Trekking Poles:
Use trekking poles to hit the hills hard and tackle some elevation to make the Mountain Goat Race a cake-walk.
Trail and Ultra Runners
Rest the legs and reduce impact over long distances and difficult terrain.
Cross trainers:
Hiking is great for cross training and forces you to use muscles you may not normally use running the roads. Adding trekking poles to your hike can ease the stress on the legs and turn the workout into a bonus recovery run. You also get to squeeze a little arm workout in there too. 
Walkers & Explorers
Trekking poles help you get outside and experience the beautiful trails and seasons we get to enjoy living in Upstate, NY. 
---
Fleet Feet Syracuse currently carries Black Diamond Trekking Poles in both men's and women's lengths.