It's February: Keep it

RED

for Nutrition & Health
RED is for heat-building or warming foods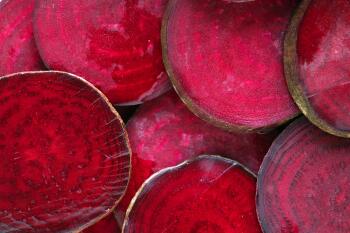 In the heart of winter in the Northeast, we need to eat heat-building or warming foods. We are a part of our environment; therefore, we should eat warm foods to balance the cold climate. Likewise, we should not eat an excessive amount of cool foods. If you find yourself consistently with cold hands, cold feet, and a cold core, try eating warming foods.  
Key nutrition principles to follow in the winter:
Eat seasonally and locally
Eat hardy soups, stews, and casseroles
Eat root vegetables and red meat (unless you are a vegetarian or vegan)
Cook with warming spices such as garlic, ginger, chili, cayenne, cinnamon, curry, turmeric, and cumin
Sip on warm beverages (such as coffee or tea) or bone broth
Eat less raw food and more cooked food
RED is for Healthy Foods
Fruits and vegetables with a red skin or flesh contain phytonutrients. The deeper the color, the more nutrient-dense the food especially in terms of vitamins, minerals, enzymes and antioxidants (e.g., lycopene and anthocyonins). Eat more of these in February: red onions, red peppers, radicchio, radish, tomatoes, beets, berries, red potatoes, apples, blood red oranges, cranberries, pink grapefruit, pomegranates, rhubarb, and red grapes.
RED is for Heart Health
February is American Heart Month. Half the cases of heart disease in the U.S. are preventable. Major risk factors include: obesity, high cholesterol, diabetes, high blood pressure, and smoking. To prevent heart disease: stay at a healthy weight, eat an anti-inflammatory diet rich in plants, control/regulate insulin levels, exercise, and don't smoke. Other protective factors include: forming friendships, having a sense of community, spirituality, a quality relationship with significant other, and staying active for life. Keep your emotions in check by finding healthy ways to reduce anger, hostility, and stress, bring more joy, happiness, and love into your life. Remember stress reduction is self-care or self-preservation.
RED is for heat-building exercises in the winter
Winter time is a good time to cross train. Get into the gym and work on your core, lift weights, and try a Zumba or spin class.  Head outside for cross-country skiing, snowshoeing, fat biking, or hiking. And, on Valentine's Day, love more because you know you're sexy! You're an athlete so be proud to show off your muscular body to someone special.
RED food for Valentine's Day
Organic red grapes or red wine (drink in moderation)
Strawberries dipped in dark chocolate  **Katina's Top Pick
Heart-shaped pizza – with red tomato sauce
Hot cinnamon heart candies
Tossed salad with pomegranate arils, radicchio, beets, and red onion
Cranberry sauce
Cherry juice
Oatmeal topped with dried cranberries
Raspberry smoothie
Katina Sayers is the owner/operator of Katina's Nutritional Coaching Corner.   She has an extensive background in health and education that began with degrees in exercise physiology, health and physical education, community health, and culminating with a doctoral degree in curriculum and instruction.  She completed an advanced certificate of study in Integrative Nutrition and Health Coaching from the renowned Institute for Integrative Nutrition (IIN) in New York City. For the last four years, she has worked one-on-one with clients, presented a multitude of nutrition topics for large and small audiences, contracted with businesses to implement worksite wellness initiatives, and currently manages day-to-day food service operations at a local non-profit agency, as well as directs activities related to nutrition and health.  Katina can be reached at ksayerswalker@gmail.com.