Sports Nutrition Tip of the Month: Superfoods Every Runner Should Try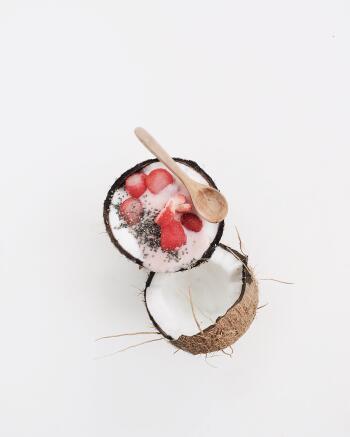 Superfoods are jam-packed with vitamins, minerals, antioxidants, and omega-3 fatty acids. Because of this, superfoods have immune-boosting and anti-inflammatory properties which make them ideal for combatting heavy training periods (i.e., promotes recovery) or just day-to-day stressors. Regardless if you are a hard-core athlete or someone looking to improve your overall health, superfoods are easy to incorporate into your diet. Because they are nutrient-dense, only small amounts are needed so don't let the price on some of these items scare you. The local Wegmans and Trader Joe's carry many of these products at reasonable prices.    
My recommendation for athletes is to include at least three of these across your meals every day. A post-workout smoothie is the easiest way to get in a couple of these superfoods. Use coconut milk or a combination of green tea and any other plant-based beverage and build your smoothie. My favorite smoothie combination is half an avocado with wild blueberries and a handful of greens. Throw in a scoop or two of your favorite plant-based protein powder to balance out the carbs and protein. Do this within 20 minutes of completing your workout for optimal results.  
You will find a couple renditions of this list across the internet, but the following are my top superfood picks:
Chia and hemp seeds
Flax seed
Cacao
Goji berries
Acai
Maca root
Noni juice
Spirulina
Chlorella
Coconut oil
Greens
Wild Blueberries
Green Tea (ideal: matcha tea)
Nuts
Avocado
Tumeric
Garlic
Salmon
 Katina's Personal Choice: Beets or beet juice for pre-race
Recipe: Superfoods Soup (GF & V)                          
Source:  Run Fast, Cook Fast, Eat Slow (Available in-store at Fleet Feet Syracuse!)
Ingredients:
2 Tbsp extra-virgin olive oil
2 carrots, peeled and diced
2 celery stalks, diced
1 yellow onion, diced
2 Tsp fine sea salt
2 Tbsp curry powder
1 sweet potato, cut ½' dice
1 can (13.5 ounces) unsweetened coconut milk
1 can (14.5 ounces) diced tomatoes
1 can (15 ounces) chickpeas (garbanzo beans)
3 cups chopped kale, stems removed
1 Tbsp lime juice
Instructions:
Heat oil in a large pot over medium-high heat. Add the carrots, celery, onion, and salt, and cook, stirring occasionally until softened, but not brown, about 5 minutes. Add the curry powder and cook, stirring continuously for 30 seconds, being careful not to let the spices brown.
Add 5 cups of water, sweet potato, coconut milk, tomatoes, and chickpeas to the pot. Bring to a boil, then reduce the heat, and summer covered, stirring occasionally, until the sweet potatoes are soft, about 20 minutes (be careful to not overcook).
Stir in the kale and summer just until wilted. Turn off the heat and stir in 1 tablespoon of lime juice. Taste and add more lime juice and salt, if needed.
Variations:
For greater depth of flavor, substitute chicken or vegetable broth for water.
Add in ½ C of quinoa while sweet potatoes are cooking to create a thicker stew-like texture.
Katina Sayers is the owner/operator of Katina's Nutritional Coaching Corner.   She has an extensive background in health and education that began with degrees in exercise physiology, health and physical education, community health, and culminating with a doctoral degree in curriculum and instruction.  She completed an advanced certificate of study in Integrative Nutrition and Health Coaching from the renowned Institute for Integrative Nutrition (IIN) in New York City. For the last four years, she has worked one-on-one with clients, presented a multitude of nutrition topics for large and small audiences, contracted with businesses to implement worksite wellness initiatives, and currently manages day-to-day food service operations at a local non-profit agency, as well as directs activities related to nutrition and health.  Katina can be reached at ksayerswalker@gmail.com.