By Katina Sayers
Eating on the Run: Will it Spiralize? Will it Rice?                          
Source: Clean Eating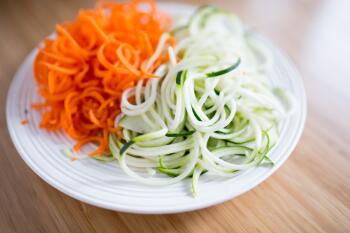 How many vegetables can be spiralized? Riced? The staff at Clean Eating (January/February 2019) set out to answer that question and it turns out that over 30 vegetables can stand up to either spiralizing or ricing. These days, it's easy to purchase a spiralizer at your favorite cooking store or prepackaged offerings can shorten-up dinner preparation. A food processor will be necessary to rice vegetables. (Note: always use raw vegetables with the spiralizer or food processor.) With a push to reduce the amount of refined carbohydrates in our diets, spiralized and riced vegetables are a good substitute for rice and pasta/noodles in just about any dish. I personally love the color combinations on my plate when I spiralize zucchini, yellow squash, and carrots as a base for pasta sauce.
Spiralize these:
Apples
Beets
Bell peppers (use these to make a colorful salad base)
Broccoli stalks
Butternut squash
Carrots
Celeriac
Chayote
Cucumber
Daikon
Melon
Onion
Parsnip
Pear
Potato
Radish (use to garnish salads or tacos)
Sweet potato (a base for pasta sauces and stir-fries)
Turnip
Yellow squash
Zucchini
Rice these:
Beets
Broccoli (ideal base for a bowl)
Butternut squash
Carrots (adds sweetness to any dish)
Cauliflower
Daikon
Jicama (a good substitute for rice; very crunchy texture)
Parsnip
Plantain
Romanesco
Rutabaga
Sweet potato
Turnip
Yellow squash
Zucchini
Nutrition in the News:  What Does a Healthy Meal Look Like These Days? 
Source: Boston Globe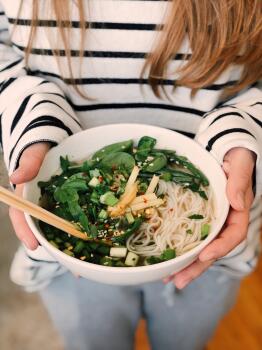 The Harvard T.H. Chan School of Public Health recently released (February 2019) a set of simple eating guidelines for Americans. Citing Walter Willet, M.D., professor of epidemiology and nutrition at Harvard T.H. Chan School of Public Health, the Boston Globe reports that these simple guidelines can help Americans wade through the confusing and sometimes conflicting sea of nutrition information.
Here's what we should be eating according:                        
Lots of vegetables and fruit (this should be the biggest part of your plate/bowl; limit fruit juice)
Whole grains
Beans
Nuts
Fish (about two times per week; canned is ok)
Lean poultry
Moderate amount of healthy plant-based fats
Add-in herbs and spices to make food taste good
Eat a variety of foods; don't limit yourself
Here's what we should be avoiding:
Sugary beverages (sodas and energy drinks)
Trans fat (avoid deep fried foods)
Too much red meat (eat grass-fed beef when possible just a few times a month)
Cheese
Other forms of saturated fat
Refined or the "bad kind" of carbohydrates such as white bread, white rice, sweetened cereals, and pastries
The bottom line, according to Willet, "Choose healthy forms of protein and fat (keep animal fats low), eat whole grains and lots of vegetables, and some fruit, and you've got it." 
How well does your current diet match these simple guidelines? What could you be doing better?
Katina Sayers is the owner/operator of Katina's Nutritional Coaching Corner.   She has an extensive background in health and education that began with degrees in exercise physiology, health and physical education, community health, and culminating with a doctoral degree in curriculum and instruction.  She completed an advanced certificate of study in Integrative Nutrition and Health Coaching from the renowned Institute for Integrative Nutrition (IIN) in New York City. For the last four years, she has worked one-on-one with clients, presented a multitude of nutrition topics for large and small audiences, contracted with businesses to implement worksite wellness initiatives, and currently manages day-to-day food service operations at a local non-profit agency, as well as directs activities related to nutrition and health.  Katina can be reached at ksayerswalker@gmail.com.