Eating on the Run: Healthy Foods to Buy at the Gasoline Station or Convenience Store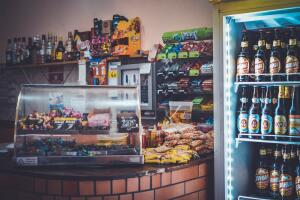 It's the summer travel season. You pack up the car with all your bags, sporting equipment, family members and pets, and hit the road. You're driving down the road and someone blurts out, "I'm hungry." You realize that you forgot to pack any healthy snacks or just plain ran out of time. There will always be an occasion when there are not any prepared snacks in the car, so what's the healthy-minded person to do? Traveling can present challenges to the person who likes to eat healthy, especially when there are limited choices. There are an abundance of gasoline stations, convenience stores, and fast food joints, so how do you satisfy those hunger pains while traveling? No need to fret. You can now head into the gasoline station or convenience store with confidence because you are armed with a list of healthy snacks. Avoid the rotisserie hot dog and use this list to guide your choices. The key will be to use portion control.
Protein bars (look for bars with at least 15 g of protein and no more than 9 g of sugar; make sure you can pronounce the ingredients)
Air-popped popcorn
Dry roasted nuts or nut butter
String cheese
Hard-boiled eggs
Sunflower and/or pumpkin seeds
Bean chips
Roasted edamame or chickpeas
Fresh fruit
Hummus with pita chips or pretzels
Seltzer with fruit juice
Beef or turkey jerky (avoid products with MSG)
Pre-cut veggies with hummus or guacamole
Single-serving whole grain cereal cups
Yogurt (check expiration date)
Whole grain crackers
Fresh salad (check "sell by" date)
Sports Nutrition Tip of the Month: Why You Need to Try Pickles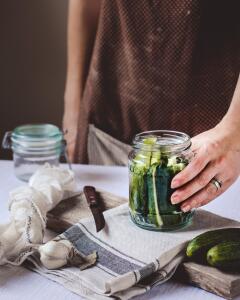 Pickles have long adorned hamburgers at summer picnics, but these days, pickles and pickle juice seem to be the next big thing in sports nutrition. A few studies have confirmed that drinking pickle juice seems to be more effective at relieving exercise-induced muscle cramps than sports drinks, but the evidence is mixed on this one. Pickle juice consists of a salty brine made up of primarily of vinegar. Vinegar might be the key ingredient that sends messages to the brain to tell muscles to stop contracting. Beyond that, pickles are also a cheap source of electrolytes especially if you're a salty sweater. Additionally, the briny taste might encourage people to drink more pickle juice which will help with restoring hydration levels. If you prefer to eat whole pickles, you'll get a good dose of vitamins C and A, along with magnesium, potassium, and zinc. Because pickles are fermented, they are packed with probiotics which is good for gut health. Look for pickles sold in the refrigerated section of the store (not the classic grocery store pickle sitting on the shelf) for the biggest benefit. Other options to consider: juice from a can of olives or pickled peppers. Even though the science is not completely clear on this one, it might be a nice change from the overly sweet gels and bars that we usually ingest.
July is National Pickle Month, so it's kinda of a big dill!
Top pickle products to check out:
Bob's Pickle Pops Sport
Pickle Juice Shots
Van Holten's Pickle-in-a-Pouch
Pickle Juice Shots Extra Strength
Katina Sayers is the owner/operator of Katina's Nutritional Coaching Corner.   She has an extensive background in health and education that began with degrees in exercise physiology, health and physical education, community health, and culminating with a doctoral degree in curriculum and instruction.  She completed an advanced certificate of study in Integrative Nutrition and Health Coaching from the renowned Institute for Integrative Nutrition (IIN) in New York City. For the last four years, she has worked one-on-one with clients, presented a multitude of nutrition topics for large and small audiences, contracted with businesses to implement worksite wellness initiatives, and currently manages day-to-day food service operations at a local non-profit agency, as well as directs activities related to nutrition and health.  Katina can be reached at ksayerswalker@gmail.com.