Ring in 2020 with these Nutrition and Health Resolutions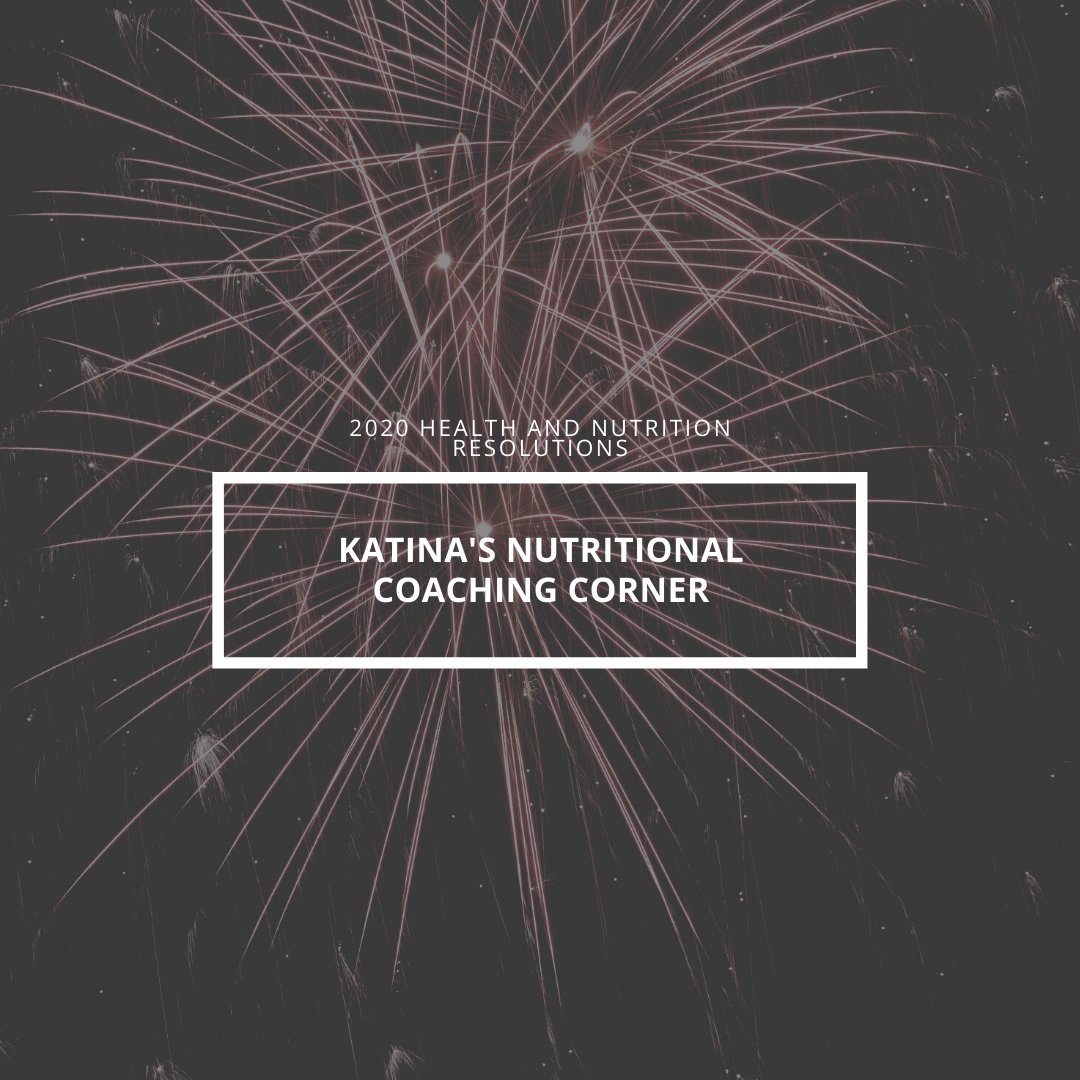 A new year is the perfect time to usher in new practices and habits if you are looking to improve your overall health and nutrition.
In this work I do with clients, we regularly set (and if need be, revise) nutrition and health goals. In practice, resolutions can provide the launching point for these goals.
Goals
Nutrition and health goals should be measurable and small actions, changes or habits should take place every day to move you closer to your goals. This creates a "new normal" without causing too much stress or mental fatigue along the way.
Goals should also be sustainable. In the months and years to come, the best practices are ones that eventually blend into your daily routine.
Last, goals should be realistic in terms of time demands and any physical or medical limitations. For instance, rather than completing a 5K race as fast as your national championship winning daughter or son, create a goal that is realistic for your age group and physical ability.  
Along the Way
Record your successes, and when important milestones have been met, reward yourself with new technical gear or fun cooking gadgets.
Commit
Starting new habits are tough and the best thing you can do is to commit to the process; 
Commit to a lifestyle; 
Commit to positivity (i.e., avoid playing the victim if there's a hiccup along the way); 
Commit to holding yourself accountable...
...and when that doesn't work, ask for a friend or family member to hold you accountable. Commit to your nutrition and health goals with the same level of commitment held towards your running or race preparation. Use that same mindset to reach your goals.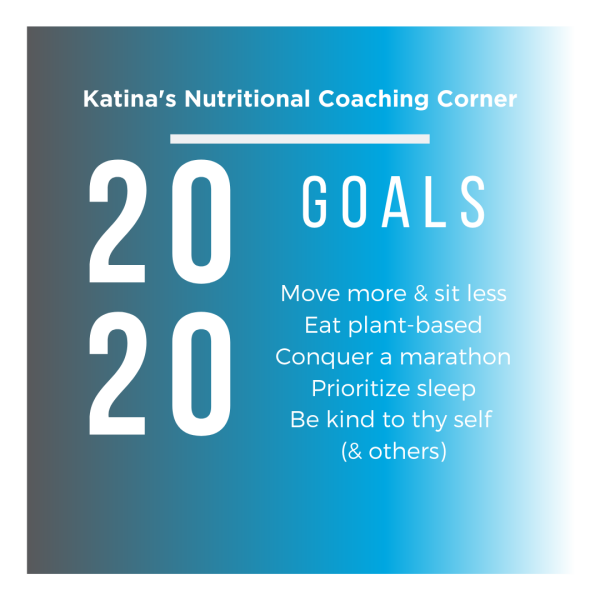 On your Mark, Get Set, Go!
Write down your resolutions, verbalize your intentions to friends and family, jot down your start date, and on your mark, get set, GO! 
Take the pledge to improve your nutrition and health in the new year with these 20 simple nutrition and health resolutions for 2020 – choose one, two, or more: 
Do:
Prioritize sleep

Start every day with a glass of water or warm lemon water

Find activities and hobbies that make you happy

Move more and sit less

Get annual exams from your family doctor, eye doctor, and dentist

Eat 3-5 servings per day of colorful veggies and fruit; pile on the plants!

Cut-back on sugary drinks

Cook more at home

Set limits on screen time 

Go grocery shopping on a regular basis

Get outside in nature more often

Purchase healthier household cleaning and beauty products

Wear sunscreen
Don't:
Swear off any major food groups

Fall prey to fad diets (the best diet is one you can sustain) 

Forget about yourself or "me-time" 

Over-rely on convenience foods 

Imbibe too often with alcohol

Cash in vacation days; rather, take days off because you deserve it

Fall into a cycle of negative self-talk; instead, turn off those tapes in your head and create some new positive messages
---
Katina Sayers is the owner/operator of Katina's Nutritional Coaching Corner. She has an extensive background in health and education that began with degrees in exercise physiology, health and physical education, community health, and culminating with a doctoral degree in curriculum and instruction. She completed an advanced certificate of study in Integrative Nutrition and Health Coaching from the renowned Institute for Integrative Nutrition (IIN) in New York City. For the last four years, she has worked one-on-one with clients, presented a multitude of nutrition topics for large and small audiences, contracted with businesses to implement worksite wellness initiatives, and currently manages day-to-day food service operations at a local non-profit agency, as well as directs activities related to nutrition and health. Katina can be reached at ksayerswalker@gmail.com.