Eating on the Run: Ramp up your Overnight Oats with Protein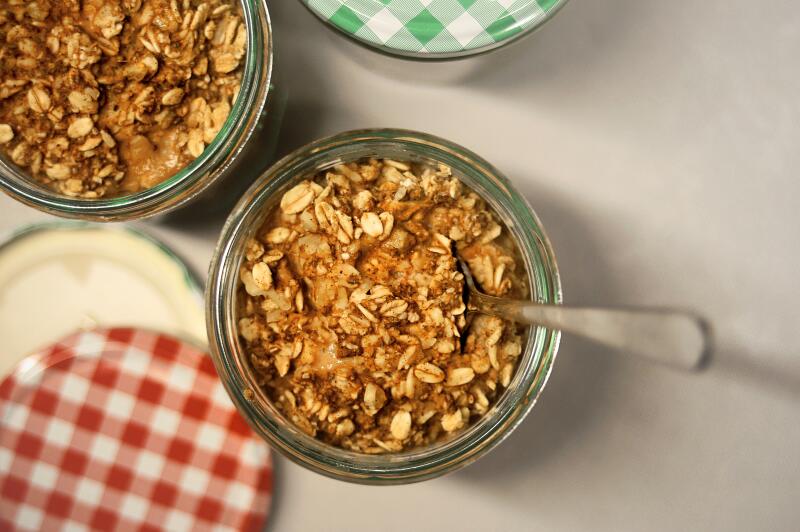 Overnight oatmeal is a favorite "go to" breakfast especially on busy weekday mornings. Multiple jars with dry ingredients can be prepared early in the week to use later and then final additions, such as milk, water, fruit, or yogurt, can be added the night before.
There are many forms of oats on the market – steel cut oats, rolled oats, and instant oats – but for best consistency, use rolled oats. Oats boast numerous nutrients such as fiber, carbohydrate, plant-based protein, and B-vitamins which make it a good choice for your gut and heart.
Easy Prep
Start with about one-third to one-half a cup of oats and add-in your favorite "boosts" such as peanut butter, cacao, spirulina, matcha, flax seed meal, or pumpkin puree' (a seasonal delight!) and each jar can hold a different flavor profile. Milk, water, fruit, or yogurt, can be added the night before and will be ready to eat by the morning. Be careful of adding ingredients that are overloaded with sugar such as maple syrup, honey, chocolate chips, caramel sauce, or whipped cream.
Enjoy on the way to work or at your desk. Either way, this will be a good way to jumpstart your metabolism first thing in the morning. Time to ramp up your oats!
To ramp up your overnight oats, try adding these ingredients for a boost:
Plant-based beverage

Green Tea

Mashed banana or banana slices

Fresh berries or chopped apple

Flax seed meal

Greek yogurt

Matcha tea

Spirulina or chlorophyll

Nut butter

Vanilla bean

Scoop of your favorite protein powder or collagen

Chopped nuts

Cinnamon

Shredded coconut

Chia seeds

Chopped dates

Shredded carrots
---
Katina Sayers is the owner/operator of Katina's Nutritional Coaching Corner.   She has an extensive background in health and education that began with degrees in exercise physiology, health and physical education, community health, and culminating with a doctoral degree in curriculum and instruction.  She completed an advanced certificate of study in Integrative Nutrition and Health Coaching from the renowned Institute for Integrative Nutrition (IIN) in New York City. For the last four years, she has worked one-on-one with clients, presented a multitude of nutrition topics for large and small audiences, contracted with businesses to implement worksite wellness initiatives, and currently manages day-to-day food service operations at a local non-profit agency, as well as directs activities related to nutrition and health.  Katina can be reached at ksayerswalker@gmail.com.